Among the country's leading Catholic universities, Seton Hall University (SHU) is home to over 10,000 undergraduate and graduate students and offers more than 90 majors and programs. In the summer of 2020 during the height of the pandemic, Dr. Katia Passerini began her tenure as the new Provost and Executive Vice President of SHU. Along with many institutions that faced the challenges of remote learning, Passerini was immediately tasked with overseeing efforts to combine HyFlex teaching methods with classroom instruction in an effective and successful way. "My first challenge was starting a new job completely remote, while at the tail end of a strategic planning process that was put on pause by the pandemic," shares Passerini. "The priority was to reopen the campus and bring our community back safely. My first ninety days—but I would argue, my entire first eighteen months—were focused on remote teaching through the Hyflex modality, the support systems for students and faculty, recruiting challenges in local and national markets, the paralysis of international recruiting, and the increased competition of online programs, which are now available everywhere across the country and the globe."
Passerini says in this accelerated reactive environment, the most demanding challenge SHU faced was whether to continue the refinement and implementation of the strategic plan. "This decision would start the clock for the launch of an increased series of activities and goals. Quite frankly, there was only one option, and that was to move forward, because COVID-19 did not stop the overarching transformation of the higher education industry. On the contrary, the pandemic accelerated these changes and the only way to prepare for a possible hypercompetitive future is to reaffirm and chart a direction for growth that feeds on the strength of the mission and shows a path towards its full implementation. The challenge was that of intentionally deciding to complete these activities in parallel and this decision is why we have been able to proceed with new or renewed investments in academics and research."
Gaining Experience in Program Development
Beginning her academic career at the New Jersey Institute of Technology (NJIT), Passerini worked on many different projects across the university. "Since my discipline is management information systems, I was involved in technology projects including enterprise resource planning upgrades, smart campus testing, and wireless tech infrastructure studies," says Passerini. "Moving through the various phases of an academic career at NJIT from assistant to full professor, I taught courses and completed research activities that made me realize that I loved working closely on innovation projects with students."
"This experience eventually paved the way for an exciting dean position in the Honors College, where I led the development of the University's top students in a myriad of academic initiatives, service activities, and innovative research," Passerini continues. "Later, when a dean position spanning multiple programs opened up at a nearby university, I applied and was selected to lead the largest undergraduate professional college at St. John's University (the Collins College of Professional Studies). This experience gave me an opportunity to launch many new programs and think strategically about program development. I discovered how much I enjoy building new programs and exploring areas that may lead to transformation."
From her decade in New Jersey, Passerini was very familiar with SHU and looked at the University's Provost role as an exciting next step. "I am honored to have the opportunity to work with a dedicated community of teacher-scholars on new academic programs," says Passerini. "The R2 status of Seton Hall was a clear signal of the commitment to high-level research within an institution dedicated to the scholarship and practice of teaching and service."
Educating the Mind, Heart, and Spirit
Moving forward, SHU's strategic plan focuses on five main areas: academic distinction, research excellence, student success, diversity and community, and long-term sustainability. More specifically, Passerini says the quest for academic distinction is connected to the fundamental belief that the University cannot be everything to everyone. "While we aspire to achieve excellence in all our programs, as comprehensive liberal arts institutions like ours should do, we also need to define areas in which we will focus to achieve unparalleled distinction. And that means making difficult decisions on how to prioritize resource allocation and growth, which is the most difficult job: saying "yes" and "no" to academic investments in specific areas, while launching new investments in others."
To help raise SHU's profile in the coming years, Passerini looks to determine ways to transfer the excellence of the institution's notable faculty into a well-known story that shows how the University's academic programs are conceived, delivered, and enhanced by these scholarly experts in their fields. "We have an incredible faculty who are scholars in their respective disciplines," shares Passerini. "I am amazed at the number of faculty who publish books with the most prestigious academic presses and high-quality publications. We want to showcase the talent of these pioneers and give our students more opportunities to collaborate on research projects with these extraordinary mentors."
The comprehensive nature of SHU, and their dedication to liberal arts and humanities-based education, is designed to expose students to a very large and diverse set of courses that push their imagination and thinking well beyond their chosen field of study. "Many majors have enough electives to enable explorations across courses and disciplines, and that is our unique advantage," says Passerini. "Additionally, as a faith-based institution, we provide a unique ethos and focus on service to the community, reflection, and introspection that facilitates engagement with society, religious, and cultural issues. Our philosophy focuses on educating not only the mind, but also the heart and the spirit, and that is our recipe for academic excellence."
Promoting Real-World Education
Seton Hall is highly focused on immersing students in real-world learning where they will gain knowledge and skills they can use to advance in the workforce. For example, SHU embeds data literacy throughout their liberal arts and humanities tradition. "We offer a digital humanities minor, medical humanities, and the like," shares Passerini. "By complementing our professional studies with broad-based teaching, this helps not only in learning important skills, but creates new ones—moving from data, information, knowledge, and eventually through to wisdom. We also teach information and data literacy through the carefully organized work that our librarians lead. SHU offers a variety of seminars, including research data management, survey research in Qualtrics, ArcGIS for Spatial Data, Data Analysis in SPSS, and introduction to Microsoft Power BI."
The University also offers an online business analytics program through the Stillman School of Business and an online data science program through their College of Arts and Sciences. "The courses offered through these programs are increasingly being re-used by other programs to further augment the data and text analytics know-how of our students," explains Passerini. "Ideally, a certificate/minor in data science and business analytics could become part of any set of electives or course sequence that students include in their schedule. We provide access to software and resources for such analysis across many programs."
"My first challenge was starting a new job completely remote, while at the tail end of a strategic planning process that was put on pause by the pandemic. The priority was to reopen the campus and bring our community back safely. My first ninety days—but I would argue, my entire first eighteen months—were focused on remote teaching through the Hyflex modality, the support systems for students and faculty, recruiting challenges in local and national markets, the paralysis of international recruiting, and the increased competition of online programs, which are now available everywhere across the country and the globe."
— Dr. Katia Passerini
Provost and Executive Vice President
Seton Hall University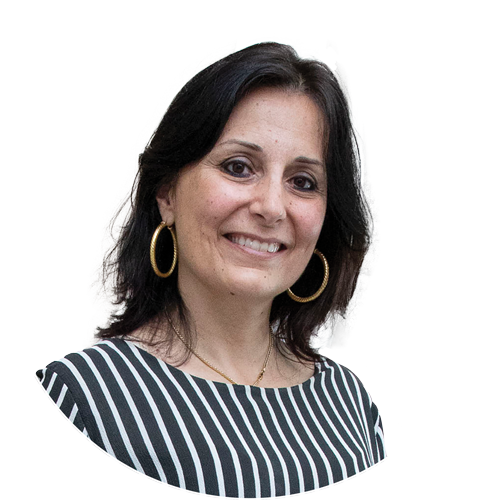 Creating a Shared Vision
In 2019, Seton Hall received the "R2" designation, placing the University among the group of institutions across the country classified as "High Research." "We have an expansive research portfolio that feeds from the excellent research that is happening in existing centers and within the nine colleges and schools that we have at the University," says Passerini. "I recently asked the Deans to highlight areas of excellence that span across colleges. Our key areas of distinction in research include: Health and Well-Being; Life Sciences, Data Sciences, and Analytics; Ethics, Spirituality, and Science; Society, Technology, and Communication. These areas are supported by local institutes, centers, and academic programs. One particular characteristic of these thematic areas is that they thrive from the interdisciplinary collaboration across units. In a nutshell, our research competitiveness relies heavily on our ability to work across the disciplinary specializations and open a dialogue that moves beyond isolated silos and finds a shared vision. That central direction is that we put people, humans, humanity, and society at the center of our research endeavors and everything we do."
In the area of Health and Well-Being, the School of Health and Medical Sciences (SHMS) established a Center for Interprofessional Education in the Health Sciences (CIEHS) engaged in and creating opportunities for meaningful and cross-disciplinary educational, research, and clinical experiences. The goal is to further develop team-based, person-centered learning in healthcare. The College of Nursing also delivers undergraduate and graduate nursing programs leveraging an interprofessional approach to treating individuals with chronic illnesses, including funded research on substance use disorders and more.
Led by the College of Arts & Sciences and the Stillman School of Business, research advancement in the Life Sciences, Data Sciences, and Analytics is taking place at the various centers and degree programs offered at SHU. Students and faculty gain the opportunity to better understand societal challenges and positively impact the world by synthesizing data in all forms, analyzing that data to find meaning, and communicating information effectively to drive important discovery insights, as well as applied policy, management and practice implications.
In Ethics, Spirituality, and Science, centers for ethics, interfaith dialogue, and institutes of religious studies and communication promote theological engagement with the natural sciences and medicine and probe the relationship between faith and reason. This area brings together work at Seton Hall Law School, at the School of Theology, College of Arts and Sciences, and the College of Communication and the Arts.
Research in the thematic area of Society, Technology, and Communication fosters ethical, servant leaders for diverse local, regional, and global communities. "Communities flourish when members feel confident, safe, and empowered by collective pursuits," says Passerini. "This is enabled by formal and informal systems education, public and international safety, savvy diplomacy and international relations, technology as a tool and a means to liberation, and communication in all forms, especially digital communication. The College of Education and Human Services, the School of Diplomacy, and the College of Communication and the Arts collaborate in research in these areas."
Fostering Interdisciplinary Collaboration
Drawing knowledge from multiple fields of study to drive innovation can be beneficial in creating a holistic approach to research, but there are often challenges to overcome as well. "Interdisciplinary research is a romantic concept that we all aspire to implement, but this approach is not the way academic institutions have traditionally worked in the past," says Passerini. "Research universities can achieve excellence and distinction through concentration and vertical specialization. There is an inherent risk with interdisciplinarity, where an institution may span in too many directions without control and may not achieve the level of depth that is typical of hyper-specialization. That level of depth is very difficult to achieve or copy. On the other hand, because academic institutions have their own networks of collaborators that are difficult to replicate, the interdisciplinary approach opens so many more possibilities, creating an innovation ecosystem with a spiral of increasing level of knowledge that is unique to the context in which it blossoms. What we need to do to overcome the limitations and fully take advantage of the opportunities is to enable people to work with colleagues in other schools and colleges and identify reward systems that encourage this collaboration. Specifically, we must reconsider how to promote team teaching and sharing of faculty hires, even though hiring and promotions are often closely tied to disciplinary areas within academia."
With significant research taking place at Seton Hall, the University is being strategic about partnering locally, nationally, and internationally moving forward. "We have partnered with research organizations that can help us understand program development and research," shares Passerini. "We have also connected with international associations, like the International Federation of Catholic Universities, that give us access to networks of partners around the world with the purpose of exchanging students and faculty who will study and conduct research in the U.S. or abroad."
A new initiative at SHU, called "Academies," looks to support interdisciplinary research and help drive progress in health sciences, international relations, law, humanities, and theology. Named after Plato's Academy—the grove where Athenians gathered outdoors for impromptu philosophical conversation about pressing questions—the Academies enjoy seed funding for three years to engage in timely matters of public concern, including green chemistry, meaningful work, applied technology, health research, and Catholic social work in action.
Launching Innovation Initiatives
As part of SHU's strategic plan, the Provost's Office, aided by the help of various committees and experts across the University and nationally, recently reviewed the overall academic structure and assessed its ability to innovate as measured by a number of success metrics. "The extensive study, which was not without its limits and challenges, guided an overall reorganization of academic units through the clarification of goals and targets by launching incremental innovation initiatives," explains Passerini. "This strategy pushed radical collaboration that brings together some colleges and schools in new ways. For example, the School of Diplomacy and International Relations is working closely with Seton Hall Law School. The College of Education and Human Services, and the College of Communication and the Arts will come together by Fall 2023 into a new unit that will focus on the future of education, communication, and professional development."
In partnering with Edge, Passerini looks forward to gaining support for the University's research initiatives and accessing a broad range of collaborative multi-institutional local, regional, and national advanced technology resources. "Edge is fundamentally dedicated to pushing the research achievements in New Jersey through shared infrastructure, collaboration, and access to advanced resources, including physical, digital, and human networks," says Passerini. "This goal is very much what we wish to do internally first, and then continuing that beyond Seton Hall, so partnering with Edge is a great opportunity for us to advance this agenda."
The other colleges and schools at SHU are working on ambitious targets in areas like enrollment, students' success, and program development to bring many of the existing and new programs to the next level. "We have some busy years ahead of us," says Passerini. "However, this work will enable reinvestment in stronger academic units, and we expect to shift over two million dollars of funding—just from this initiative—permanently into the academy. Additional funding will likely take place through expected programs growth, funded grants, and fundraising for chaired positions/programs. We are looking to hire thirty new faculty members this year!"
Globally Transforming Education
An important mission at Seton Hall is advancing diversity, inclusivity, and equity and providing opportunities to a greater number of students. "If we look at the education sector, women are surpassing men in obtaining a higher education degree, although there are differences by field of study," says Passerini. "Diversity brings new ideas, and we need to source ideas from wherever they exist, including different ethnic communities, countries, and states. Ultimately, by hosting and welcoming a variety of experiences and perspectives, we become better as a whole. SHU celebrates these principles by dedicating an entire strategic priority to community diversity and every single unit is working on academic, research, student services, financial, admission, and administrative goals that lead to a larger participation across the institution."
As a previous international student, Passerini continues to be passionate about study abroad and international exchange programs and the benefits that they can provide to both the University and the students. "I would like to double our current incoming and outgoing International student numbers by 2025 and build more partnerships across various continents," shares Passerini. "In addition, COVID has fast-tracked the entire world into digital communication. I cannot think of a better time to start digital connections with partners worldwide and invite a different way of 'virtual travel' and remote collaborations."
Passerini says the ability for institutions to leverage digital transformation and online learning depends on their own ability to adapt to multiple modalities of teaching and learning without impacting their core resources and the needs of their students and faculty. "While we can now reach a larger audience, so can everyone else, including well-known international players. Ultimately, some universities will simply modify and augment what they already do, and others will convert to a fully online model. This is similar to the transition we experienced with the rise of electronic commerce. First online sales were just another channel, then they became the preferred channel, and for some, they became the only channel."
"However, learning is different and is a socially constructed process that feeds from interactions, communication, and collaborations," Passerini continues. "If having access to information was enough for people to learn, we would not need degrees, just books and public libraries. COVID showed that we must indeed come together and discuss, share, and argue about what we are learning, and we must do this with others, including our peers and mentors. Institutions across the education community will likely be exploring the impact of digital learning—both positive and negative—for years to come. I do suspect that hybridity is here to stay, especially for new and emerging learners that may need to retool and retrain for an increasingly different workplace. We must each decide what type of digital transformation we are ready for and what will provide the most impactful educational and career opportunities for our students as they prepare for the future."
Looking for leading-edge technology, advanced computing resources, and collaboration opportunities to drive your research initiatives forward? Explore how EdgeDiscovery is helping transform the research community at njedge.net/research.