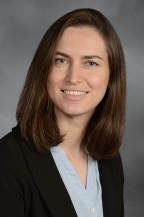 NEWARK, NJ, June 16, 2022 – Edge, the region's nonprofit research and education network and technology partner, is pleased to announce the addition of Polina Smirnova as a Network Engineer Level 1 "Field Engineer" to its growing team of dedicated technology professionals.
Reporting to Edge's Bruce Tyrrell, Associate Vice President Programs & Services and also working closely with Jim Stankiewicz, Associate Vice President & Principal Network Architect, Smirnova will assist the Network Engineering Team with routine installation maintenance of the Edge network assets and for supporting network projects. Additionally, Smirnova will be responsible for updating and maintaining all network documentation in accord with the field operations practice standards established by the Network Engineering Team.
"As Edge continues to expand its membership base across the region, onboarding experienced individuals like Polina will ensure we have the resources needed to meet member needs while simultaneously ensuring network health," noted Tyrrell. Continued Tyrrell, "Polina will also aid in the management and tracking of all network assets and inventory; perform installation, moves, adds and repairs of network components, UPS and server related hardware; assist the network engineering team in resolving all network and systems related problems; and much more.
A graduate of Carnegie Mellon University, Polina is a seasoned service operations analyst with a wealth of experience supporting network and cloud infrastructure services and software. With certifications including AWS Certified Solutions Architect, CCNA , CompTIA Network+, and CompTIA A+ along with networking experience including Cisco, Aruba, and HP switches, TCP/IP, DHCP, DNS, VOIP, OSPF, EIGRP, BGP, Firewall Configuration, VPN, Polina also has security experience in the areas of encryption, multi-factor authentication, and security remediation.
"In my new role at Edge, I'm looking forward to supporting day-to-day network and system operations; traveling to all Edge co-location facilities as necessary to fulfill network maintenance and operations responsibilities; and, most importantly, working side-by-side with a team as experienced and talented as Edge," shares Smirnova.