Graduating with an Engineering degree from New Jersey Institute of Technology (NJIT) in 2004, Christian Hartman's plan was to dive into the world of project creation and design. While immensely enjoying the collaboration with peers and working with his fellow engineers, the self-described extrovert began to find less enjoyment with the laboratory work, testing, and diagnostics associated with some of his earlier roles. Conversely, he found quite a bit of joy in presenting and face-to-face human interaction. "I found I'd rather be the person giving the presentation and sharing the design concepts to our clients," Hartman says. Fortunately, following a few of his internships, Hartman found opportunities to combine his technical and interpersonal skills with several companies in the private sector. He enjoyed building up franchises and teaching the businesses about technology. "My positions were all about working with people and showing the teams how technology could change and improve their businesses," he adds.
These experiences brought forth connections at New Jersey Alliance for Action (Alliance for Action). Hartman began conversing with one of Alliance for Action's officers, who shared the organization's mission to transform New Jersey's infrastructure. "Alliance for Action's positive impact on the state and its residents interested me immediately. Their mission fit in with what I wanted to do and how I wanted to move my career forward. I felt like I would be able to give back because I love this state," he shares. Hartman began working at Alliance for Action in 2014, initially as the Assistant Vice President. In 2018, he was named Vice President and was placed on the Executive Team.
Hartman's technical expertise and ability to connect with Alliance for Action's clients was also one of the reasons for his recent invitation onto Edge's Board of Trustees. "When Edge asked me to be a part of their Board, the invitation was an honor and seemed like a natural fit," he said. "Our organizations often work together with research and development and many Edge members are also members of the Alliance."
Providing Leadership Through Advocacy and Education
As Vice President, Hartman oversees several key strategic areas at Alliance for Action, devoting significant time to the areas of advocacy, education, infrastructure, capital construction, economic development, and working to unite three industries: business, government, and labor. "We bring together the big three—entities that may not traditionally see eye to eye," he explains. "Our job is to carve out the projects and the initiatives that we believe are important economic drivers for those three sectors." While working diligently to align the big three, Hartman also aims to grow Alliance for Action's membership and develop fresh networking opportunities for current members. "All of our members, whether they are from business, government, or labor, are constantly seeking to expand their respective networks, so part of my job is to connect members to individuals who could potentially become a new contact which, in turn, enables both parties to grow both their bases."
With many important strategic tasks on his plate, Hartman also finds time to be the resident technical geek on staff, guiding Alliance for Action into the 21st Century through digital and virtual interactions, communications, and interactive conferences. "We have to change the way we communicate whether the mechanism is through social media, more traditional online interactions, or via digital communication," he explains. "I don't think the technology evolution will ever truly end, but fortunately, I relish the concept of constant innovation."
"When Edge asked me to be a part of their Board, the invitation was an honor and seemed like a natural fit. Our organizations often work together with research and development and many Edge members are also members of the Alliance."
– Chris Hartman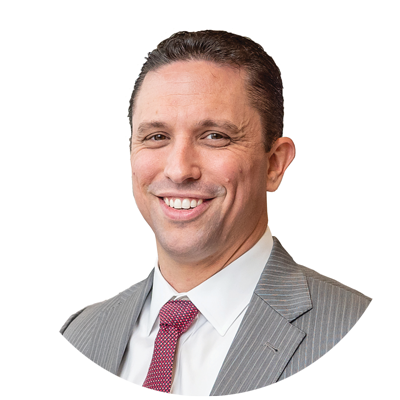 "The New Jersey Connection That Works"
Since the 1970s, Alliance for Action's overall mission has been to improve New Jersey's economy through the promotion of capital construction and infrastructure investments, calling themselves "The New Jersey Connection That Works." With thousands of New Jersey's top corporate, labor, professional, academic, and governmental representatives as members of the non-partisan organization, the group has been an important advocate regarding the completion of countless initiatives and projects within the state. While not always visible to the general populous, Alliance for Action plays a vital role in bettering the state's communities, including spearheading the creation of a better transportation infrastructure, the development of 5G, all the way down to making sure there is sand on the beaches and clean drinking water flowing through the pipes.
Hartman says their goal is to identify areas of need in New Jersey and then direct resources to devise a solution. "No one thinks about when the light switch is flipped on or the heat is turned on in the winter, people simply expect both utilities to work seamlessly. Families aren't necessarily concerned about where their energy is coming from; they just want their family to be safe and comfortable," Hartman says. "Our job is to make sure everything is working behind the scenes, so the lights can come on, there is clean drinking water, working utilities, and functional transportation."
5G Becoming a Game Changer
Over the past few years, the term 5G has become better known and the possibilities the technology provides have become known game changers. Alliance for Action has partnered with Edge's network to strengthen the state's infrastructure and provide instantaneous access. Hartman believes Edge's connections to research institutions, healthcare organizations, higher education, and non-profits, as well as their broadband backbone, provide untapped potential for 5G in New Jersey.
With COVID-19 accelerating trends like remote learning, research collaboration online, and working from home, many member institutions are reaching out to Edge and Alliance for Action for connection, so these necessities can be sustained and improved. "I believe our members will learn how to leverage Edge as a resource as time moves on, because they're learning how important things like broadband and connectivity are in the real world right now, especially because of the COVID-19 pandemic," Hartman explains. "You either are going to have to change or you are going to be left behind."
Continued Partnership with Edge
Since youth, Hartman has been a communicator and enjoys the times he can interact with like-minded individuals. He especially appreciates Edge events and his ability to network and grow in technological education. "At the several Edge events I attended, the material was focused on cybersecurity, which is something I believe, especially in the construction industry, we need to start looking at more," he says. This sector has incorporated wireless tools, CAD programs, and the ability to create blueprints and schematics in real time at the job sites. If these components aren't protected, hacking can occur, and material lost.
Hartman also appreciates the ability to network at Edge events, which is something he immensely enjoys and is a necessity in his position at Alliance for Action. "There is enjoyment in meeting new people, because you never know when the next person could open the door for you or open your eyes to something you didn't know about before – basically opening up a whole world for you," he adds. Most importantly, Hartman said the value of making new connections with a diverse group of people can have enormous impact in the future. He then takes these networking opportunities and connects his members to resources. "If by going to these different events and meeting all these different people, I can break down those walls, or I can learn something about a new connection and I can help one of my members, all I'm doing is making the network that much stronger and that much better," Hartman shares. "These connections not only help me, but will also help my members and Edge's members. They're getting a new contact, my member is getting a new contact, and hopefully the two of them are learning something new. Then they can move forward, and their businesses can grow from there."
The connections Hartman has developed was another reason for his invitation onto Edge's Board of Trustees. With his role at Alliance for Action, he can become a collaborative resource for both parties and increase the overall value proposition of the two organizations. As part of the Edge Board, two of the areas he will be focusing on include connectivity and security. "Protection must be provided against ransomware and viruses, and hackers have increased their efforts across the board." Many towns, smaller institutions, and municipalities find themselves ill-prepared against the onslaught. Hartman finds comfort in the fact the Edge network provides another level of protection and additional resources to aid these groups. "I think Edge has some very interesting solutions when it comes to cybersecurity, especially the new EdgeSecure Cybersecurity Health Check program," he says.
Full Circle Assistance
Almost twenty years ago, Hartman was a student at NJIT and now he serves as a peer to the institution, which is also a valued, connected member of both Alliance for Action and Edge. He feels the preparation and real-world experience NJIT provided has played an enormous role in his own life. "I don't know if there are many schools out there that prepares their students for the real world as well as NJIT, especially as an upperclassman and no longer just looking at the books, but you're working in a lab and collaborating with others," he shares. "Their ability to prepare students to transition to the workforce is unparalleled."   
Hartman says the transition from student to peer is strange in some ways, explaining. "When you're a student, you look up to these folks, especially those in the administration. In my mind, they represented the true embodiment of innovation and the creation of new methods to conduct business using the latest technology," he added. "It's a strange thought to put yourself as a peer to Dr. Henderson or Dr. Rose—people I always looked up to. However, I finally understand the challenges these administrators face on a day-to-day basis, and I understand how groups like Alliance for Action and Edge can help their members navigate the world as universities adapt to changing students' needs, wants, and desires—what they need in order to adapt and to survive."
Now, Hartman has a seat at all these tables, using the leadership and interpersonal skills he began crafting in classrooms at University Heights, Newark, NJ. In many ways, he has come full circle, using his gifts to help members of both Alliance for Action and Edge to become game changers in the world.