Founded in 2011, Zoom quickly became a household name during the pandemic as many remote workers, teachers, and students needed an online solution for learning and collaborating. Last year, Zoom was named a leader in the Gartner 2021 Magic Quadrant for Unified Communications as a service (UCaaS) Worldwide and rated as a top vendor by TrustRadius for excellence in customer satisfaction. Along with continuing to offer exceptional meeting room solutions, Zoom provides a cloud phone service that allows users to make phone calls with the same ease and familiarity as Zoom video meetings. Zoom Phone enables secure voice calls across all supported devices and offers a simple and straightforward way for Zoom users to set up quick calls without video. "As a single communications stack, Zoom Phone seamlessly allows people to connect into Zoom Cloud from a desktop, mobile device, hardware phone, or room system," explains Glenn Grieshaber, Account Executive of Higher Education, Zoom Video Communications. "Zoom is a cloud-native infrastructure that gives our customers a single platform solution that is optimized for modern communications. From an educational organization perspective, the single unified client of Zoom Phone makes deploying, scaling, managing, and maintaining the technology much easier for IT managers."
Designed to drive team collaboration, Zoom's solutions look to enrich teaching and learning and expand traditional classroom settings with a true unified solution. "We are trying to meet the growing needs of schools and the requirements of their modern learners and teachers," shares Grieshaber. "Zoom aims to help organizations improve their learning outcomes, make their meetings easier and more efficient, and increase student retention and engagement. From the organization's viewpoint, we also want to maximize current resources. The single client of Zoom Phone makes using and scaling university and college resources much easier. Plus, this solution can seamlessly integrate with an institution's learning management system (LMS)."
Migrating to the Cloud
Many institutions in higher education are beginning to make the transition from conventional phone services, like private branch exchange (PBX), to cloud technology solutions. "This migration is being driven by the need to move away from legacy analog technology to a digital cloud solution for several reasons," explains Michelle Ferraro, Member Account Manager, Edge. "PBX services are primarily supported by on premise hardware and software, and we are seeing many of these solutions become obsolete due to their lack of flexibility and high support cost models. Colleges and universities that are still running on legacy PBX systems have begun to migrate and explore the advantages of cloud-based technology for their communications offerings."

With these PBX solutions becoming outdated, Grieshaber has also noted a rise in organizations exploring the advantages of cloud-based technology. "Fortunately, new solutions like Zoom Phone will easily integrate into other third-party solutions and allow institutions to move more of their support model into the Cloud through professional services or reduced administrative touchpoints, freeing up staff to focus on other tasks. We have also seen many of these legacy solutions being discontinued, so some institutions with very specific use cases demanded an enterprise-quality solution in the Cloud. Zoom Phone was built from the ground up to solve these types of use cases and administrative challenges and provide a streamlined end-user experience by leveraging data to that single client for all their video and phone needs."
Cloud-based solutions offer flexible end user-based solutions that move most of the support model into the Cloud for easier management. "This transition is happening for several reasons," explains Ferraro. "One is the need to consolidate and manage communication requirements from a single all-in-one solution for an UCaaS environment. Organizations also want to drive team collaboration on intelligent platforms, while supporting and managing off-site employees securely. Cloud solutions can also help organizations reduce IT expenditures, better manage the year-over-year forecasted budget, and effectively confront rising security concerns."
In addition, Zoom helps enable our customers' HIPAA compliance programs and is E911 compliant, addressing regulated Enhanced Emergency Services, such as Kari's Law and Ray Baums Act, at no additional cost to the end user. This new federal law requires businesses to comply with three phases of compliance regulations that took final effect in January 2022. These requirements include: 1) A phone system must allow a user to dial 911 without any prefix or access code; 2) Notification must be sent when 911 is called; 3) A valid callback number (not the main company phone number) must be provided when 911 is called.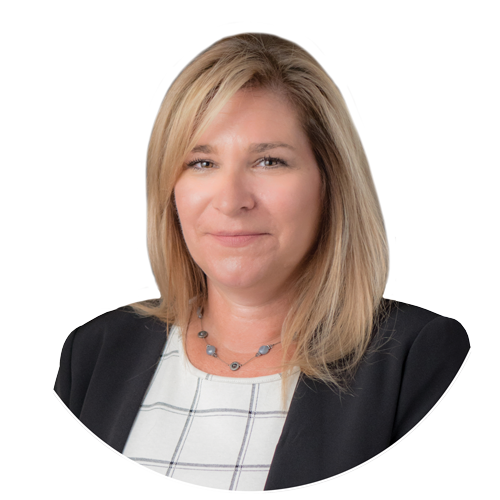 "This transition is happening for several reasons. One is the need to consolidate and manage communication requirements from a single all-in-one solution for an UCaaS environment. Organizations also want to drive team collaboration on intelligent platforms, while supporting and managing off-site employees securely. Cloud solutions can also help organizations reduce IT expenditures, better manage the year-over-year forecasted budget, and effectively confront rising security concerns."
— Michelle Ferraro
Member Engagement Manager
Edge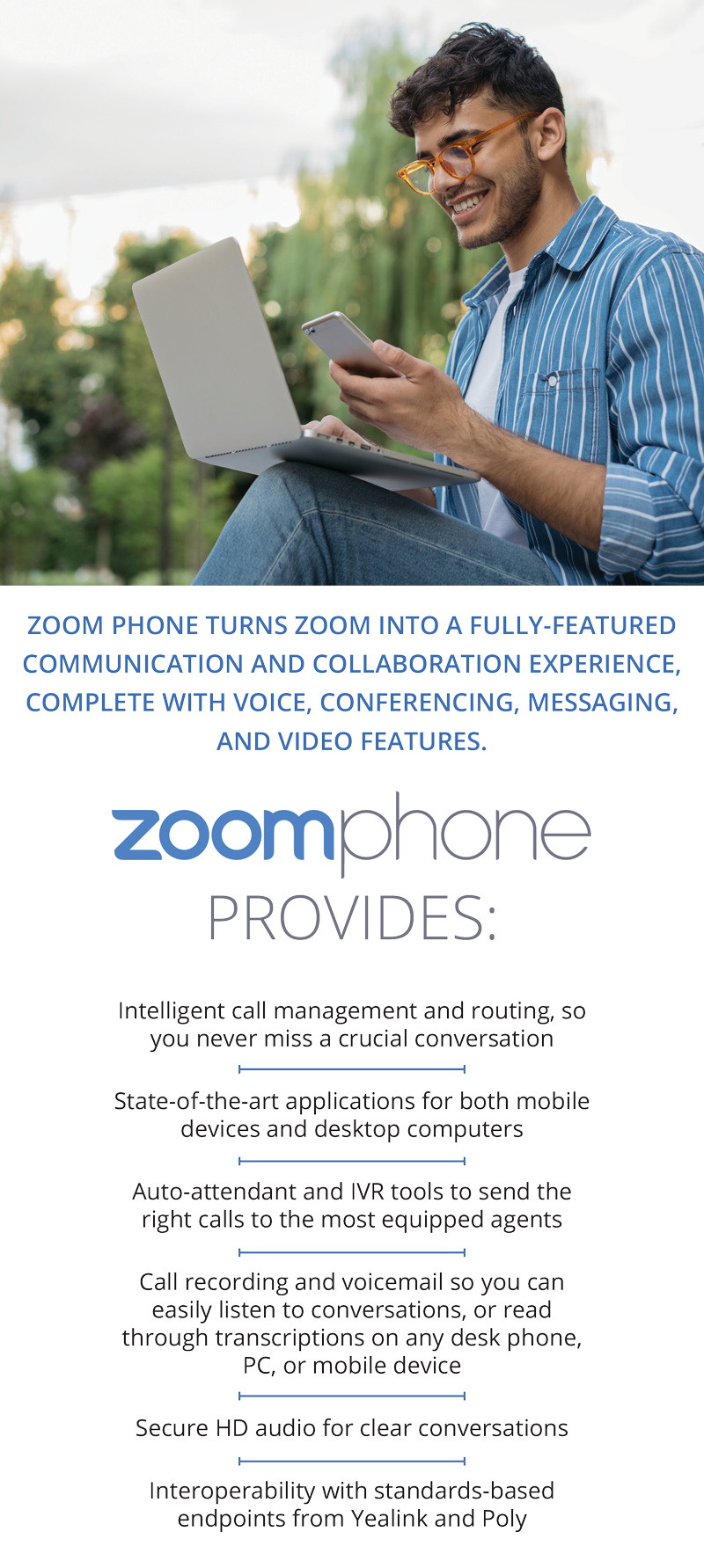 Tailored Communication Experience
Specifically, in the education space, many institutions have developed solutions over a long period of time and have combined multiple platforms together over the years, often resulting in a subpar end-user experience. "With platforms that have been bridged together, you have multiple touchpoints from the administrative side and this setup poses a very challenging support model in the end; raising the overall cost of the solution and complexity of the network," says Grieshaber. "We're seeing from most of our colleges and universities a desire to replace these multiple platforms and technologies with a simple single application. So far, the feedback from New Jersey institutions that have deployed Zoom Phone has been positive. Being architected on a single client, organizations have been able to scale very simply, securely support off-site employees and students, and train their staff easily, especially since many people are already familiar with the Zoom app and interface."
Being a robust cloud PBX built on a single application, Zoom Phone allows a seamless workflow from a phone call to Zoom Meeting, Zoom Chat, and Zoom Room. "From the team management side, you have a centralized management tool or a single point of administration to conduct detailed reporting, meeting analysis, monitoring service, and scale Zoom phone users," explains Grieshaber. "Zoom Phone provides a secure and reliable HD voice experience in the Cloud across globally distributed data centers. We have hundreds of features and continue to add more, like closed captioning, contact center capability, electronic transcription, keyboard shortcuts, and the ability to participate equitably across our client. We also give an institution's users and administrators of that account the ability to access features, and either turn them on or off based on their preferences and needs. The Cloud gives you that flexibility and control to tailor your communication experience to your specific organization."
Team of Experts
Zoom is committed to making the transition to cloud-based communications as easy as possible and helping customers upgrade or scale their existing environment efficiently. "We partner closely with organizations and work to certify many of the leading manufacturers' solutions in our ecosystem," says Grieshaber. "This means we support a robust ecosystem of hardware from manufacturers like Poly, Yealink, Neat, ePen- Dten, AudioCode, Cisco, Ribbon, Spectralink, and many others. We offer certified headsets, classroom and conference room devices, USB cameras and speakerphones for video and audio capability, all-in-one room systems, and paging and intercom hardware to completely build out a robust phone system."
Edge and Zoom have partnered to share their combined experience and expertise with member institutions, and Zoom video and web conferencing solutions can currently be procured through EdgeMarket. "We really value and appreciate our Edge relationship and are very proud of what we're accomplishing together," shares Grieshaber. "Our customers, like Edge members Georgian Court University (GCU) and Brookdale Community College, are benefiting from the Zoom and Edge partnership and how we work closely together in every customer engagement. As a collective team, we provide consistent technical information to ensure the best solution is being provided to meet an organization's individual needs. From an administrative and contractual perspective, the Edge/Zoom partnership allows our customers like GCU, Brookdale, and others the flexibility to meet all of their procurement requirements. Each of these schools had legacy technology that was outdated, with equipment that was going to be discontinued soon. This can cause a great deal of pressure from a technical and feature perspective."
Grieshaber continues, "Zoom and Edge were able to suggest a model that answered the growing demand for team collaboration and delivered an intelligent platform that provided a flexible and customizable solution. Both GCU and Brookdale were able to lower their overall yearly IT investment and were upgraded to a true cloud unified communications (UC) phone solution. Each institution was able to address any security concerns and compliance requirements with Zoom Professional Services. For customers who invest in Zoom solutions, the new features and functionalities that continue to be released will be added automatically. We will be adding more enhancements soon, and we think colleges and universities will be extremely excited about these new features and the collaboration opportunities they will provide for their organization."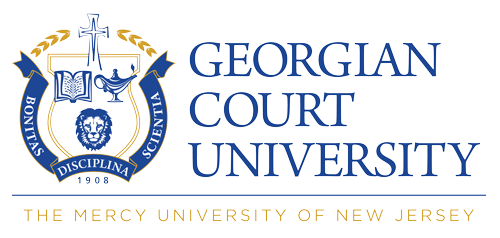 GCU's Successful Transition to Zoom Phone
Edge member, Georgian Court University (GCU), recently made the transition to Zoom Phone from an Avaya PBX system that included a combination of old analog phones and IP phones. Along with deteriorating copper lines causing connection issues, GCU had been notified by the vendor that the PRI lines connected to the PBX were no longer going to be supported. The University began exploring solutions for updating their phone systems and after reviewing several options, GCU chose Zoom Phone to upgrade their communication capabilities.
GCU obtained Zoom Phone through EdgeMarket, allowing for a seamless procurement process and great pricing of a vetted phone system. Since GCU already uses Zoom for meetings, the transition to the new cloud-based phone system was fairly straightforward. To help all users get up to speed quickly, Zoom provided two training sessions and links to their extensive library of information on using their system. 
"The new zoom phone system has provided many new features on an easy-to-use, familiar platform," says Matthew R. Manfra, Vice President for Institutional Advancement, GCU. "Being able to seamlessly make or take calls anywhere using mobile, computers, and phones has increased our ability to engage with our constituents."
By transitioning to Zoom Phone immediately following graduation, disruption to day-to-day operations was minimal and the University did not receive any complaints during implementation. Users say migrating to the Cloud was an easy process and they are excited to be able to use all the new features and enhanced flexibility the Zoom system offers.
To learn more about the benefits of Zoom Phone and how to bring your communication capabilities into the modern era, reach out to Michelle Ferraro at michelle.ferraro@njedge.net or Erin Brink at erin.brink@njedge.net.