The unprecedented growth and need for digital learning has been seen across the education community, with many institutions seeking solutions and support that could address the changing needs of their students and staff. To help members accelerate their online learning capabilities and integrate instructional design best practices as their organizations move forward, Edge has expanded their Digital Learning and Collaboration solution, EdgeLearn. "At the beginning of the pandemic, many institutions were seeking assistance with remote learning and faculty and student development, and needed to move online quickly at an unexpected time," explains Josh Gaul, Edge's Associate Vice President and Chief Digital Learning Officer. "To help ease this transition, we expanded our suite of technology solutions, and now have integrated these professional services into our EdgeLearn solution. Institutions can partner with our seasoned experts to gain guidance on instructional design, course evaluation, learning space design, or creating a plan to achieve their digital transformation goals."
Helping to Advance Online Learning
By incorporating more instructional design and educational technology aspects into EdgeLearn, Edge aims to help member institutions create more innovative learning experiences for students and powerful teaching opportunities for educators. One way of accomplishing this goal is through course evaluation, included in the Edge Online Learning and Instructional Technology Acceleration (OLITA) program. OLITA is designed to deliver instructional design services and provide online learning experts who assist with course development, evaluation, and faculty development and training. Edge reviewers help evaluate courses based upon learning design and quality, while integrating best practices for infrastructure support, EdTech, student privacy, and cybersecurity. 
"Reviewing existing courses can be very time consuming and many organizations do not have the resources to devote to this process. Our advisors have their Applying the Quality Matters Rubric (APPQMR) certification and have a deep understanding of industry standard rubrics, like Quality Matters (QM) and the Online Course Quality Review Rubric (OSCQR)," explains Gaul. "We can provide useful recommendations for course improvement, help an institution adopt a quality assurance process, and guide faculty and staff as they navigate the world of online learning." In addition, Edge can collaborate with campus leadership to develop and implement evaluation and revision cycles for online programs.
Through course evaluation, Edge helped Thomas Edison University evaluate barrier courses, which are courses with a high dropout or fail rate. By evaluating these courses against their rubric, reviewers can gain insight into why these trends are happening and determine how these classes can be improved. Edge is also helping institutions to build online learning objects (LO), or digital educational resources that can be used and re-used to support learning activities. "Learning objects can offer smaller, more concentrated learning experiences that are engaging and interesting for students," says Gaul. "We are currently working with Rutgers University to build a choose-your-own-adventure style learning object. Students go through interactive activities, where based upon the choices they make, they are led on different pathways. Instead of strictly reading lecture notes or watching an online video, this component adds an engaging element to the online course."
Bringing new programs online or enhancing existing ones can be challenging, but with the right plan in place and best practices to follow, the transition can be successful. Edge provides project management for instructional technology implementations and offers expert guidance on navigating a seamless program launch. 
"Our instructional designers have their Master's degrees in this field and can augment an organization's existing team in a valuable and cost-effective way, eliminating the need to hire a full-time staff member," says Gaul. "Our instructional design services are not just project-based, but people-based, and with diverse skills and experience, our team can expand the reach of an institution and help bring their digital learning initiatives to life." Organizations can also receive assistance with training program development and delivery on enterprise instructional technology solutions. Additionally, as faculty and students learn new educational technologies, Edge offers help desk incident management to ensure all users are getting the assistance they need to be successful. 
Supporting Faculty and Student Development
Through the process of helping organizations move to an online platform, Edge has gained valuable insight into what makes a successful digital learning and teaching experience and looks to share this knowledge with students and faculty. Edge can help develop and deliver custom training programs for an institution, along with designing custom badges and certificates for trainees. "We've created a series of modules—one for online instructors, and another for online learners," says Gaul. "When the modules are completed, we offer three live sessions where students, faculty members, and the institutions can share their experiences on the topic. For instance, through these live discussions, the group shared what they thought was working and what wasn't working from an instruction standpoint."
Instructional Design
Course Management: Standard course updates from term-to-term (date changes, link checks, etc.)
Curriculum Design & Development: Work with faculty to design/redesign courses
Reusable Learning Objects: Creation of high quality learning objects for use in online curriculum or training (Articulate, Captivate, etc.)
Program Development
eLearning Strategy: Collaborate with stakeholders to develop online learning strategic plans
Planning & Evaluation: Assessment of existing online programs/departments to provide analysis and assistance
Instructional Technologies
Technology Support: Helpdesk incident management for campus educational technologies
Implementation: Project management for instructional technology implementations and transitions
Training: Training program development and delivery on enterprise instructional technology solutions
Course Assessment & Evaluation
Course Evaluation: Evaluate existing online courses against industry standard rubrics (QM, OSCQR, etc.) or custom rubrics
Quality Assurance Planning: Collaborate with campus leadership to develop and implement evaluation and revision cycles for online programs
Faculty/Student Development
Training Programs: Development and delivery of custom training programs for faculty and/or students
Badging/Certifications: Design and deliver custom badges and certificates for trainees
Learning Space Design
Space Design Assessment: Evaluation and analysis of campus learning spaces in preparation for renovations and updates
AV Classroom Installation: Installation of 21st century video classroom technology to improve the student learning experience
"Reviewing existing courses can be very time consuming and many organizations do not have the resources to devote to this process. We can provide useful recommendations for course improvement, help an institution adopt a quality assurance process, and guide faculty and staff as they navigate the world of online learning."
— Josh Gaul
Associate Vice President & Chief Digital Learning Officer
Edge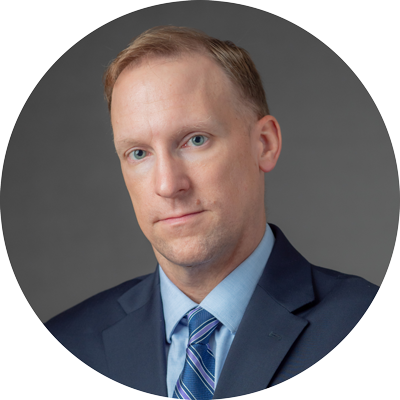 "Another session discussed how to build learning activities that are more fun and engaging, and the third delved into academic integrity, including cheating and plagiarism," Gaul continues. "Edge is also currently building another series of self-paced workshops based upon the feedback from the first live session and will include more focused guidance on building interactive courses where learning is accurately measured."
As digital and hybrid learning becomes more prominent at institutions, many organizations are determining how to redesign course spaces that are both flexible and functional as needs change. For organizations looking for AV classroom systems, Edge can also install 21st century video technology that will fit the class objectives and deliver a superior student learning experience. "Edge is helping institutions digitally enhance their learning spaces, while ensuring these changes are aligned with the overall strategic planning for space design across campus," shares Gaul. Through Edge's space design assessments, organizations will learn how to effectively prepare for innovations and updates that minimize disruptions and provide a smooth transition.
Developing Digital Learning Strategies
Through the Virtual Chief Digital Learning Officer (vCDLO) solution, Edge can help institutions to unite their educational mission across all online and traditional programs. "An Edge vCDLO acts as a bridge between technology infrastructure and academics," shares Gaul. "By partnering with leadership, a vCDLO helps create a digital learning strategy that supports your institutional mission, drives student success, and creates a roadmap for future growth. Investing in the digital space does not need to come at the expense of traditional learning." Institutions can also receive assessments of existing online programs and departments to determine areas of improvement and opportunity. "We provide intelligent ways to use financial and human resources to advance online learning and expand a school's reach and expertise, while maintaining the quality of face-to-face education," says Gaul. "Overall, our goal is to help organizations think strategically about how practices, procedures, pedagogy, and psychology can all work together to build an ecosystem of learning and instruction."
As online and hybrid learning transforms, EdgeLearn will continue to evolve to help institutions meet the needs and expectations of their students and faculty. A core piece of effectively meeting these changing needs is by building a collaborative community of experts who can share their unique experiences and skill sets with others. "When an instructional designer in Hudson County connects with an instructional designer in Seattle, they can bring their own perspective and insight to the table," says Gaul. "By building an ecosystem of innovators who want to pool resources and offer solutions that can benefit the greater community; we advance the digital learning journey for all."
Take the first step toward  accelerating the development of innovative, engaging learning experiences at your institution. Contact us at digitallearning@njedge.net.