NEWARK, NJ, March 10, 2022 – Collaborating partners TechUnited, Edge, The New Jersey Economic Development Authority (NJEDA), and The New Jersey Big Data Alliance (NJBDA), are pleased to announce the availability of the State of The State of Innovation in New Jersey Report. ​​
This inaugural report highlights the current needs, challenges, and opportunities for entrepreneurs within the New Jersey innovation ecosystem. Based upon the State of the State of Innovation in New Jersey online 2021 survey data, the findings provide valuable insight that can help inform curriculum and government policy decisions and pinpoint essential skill requirements needed in the workforce. Aaron Price, President & CEO, TechUnited, shares, "Information we gathered from this survey will provide a narrative that's backed by data and gives a starting point for leaders to begin discussing where the need for improvement exists."
The survey was administered to 276 individuals within the government, industry, non-profit, and higher education community. Survey participants ranked characteristics of New Jersey's innovation ecosystem within various categories, including educational and other institutional partnerships, public policy, human capital, market access, and quality of life. Notes Dr. Forough Ghahramani, Associate Vice President for Research, Innovation, and Sponsored Programs, Edge, "Respondents recognize the role of government, the investment community, and higher education in the innovation ecosystem. Universities play an important role in creating a talent pipeline, promoting innovation and entrepreneurial activity, and growing local businesses."
"Upon first look at the data gathered from this survey, the respondents agree that the availability of skilled human capital in New Jersey is exceptional," explains Dr. Richard Kasmin, Chief Economist Director of Policy & Data Analytics, NJEDA. Kasmin further elaborates, "The access to talent and the ability to network with other organizations are very important factors to a healthy innovation ecosystem. The areas we need to improve include broadening access to localized financial capital and developing more of an investment ethos in the State. To help achieve this desired culture of innovation, the efforts within New Jersey need to become more cohesive. We already have many skilled people in the public and private sectors that are helping build an innovation ecosystem and culture. With more focus on this goal from a larger portion of the population, I believe we can begin to make significant strides."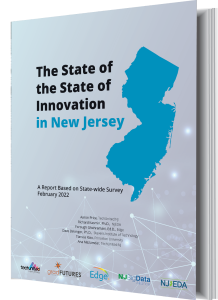 In conclusion, Dr. David Belanger, Senior Lecturer, Stevens Institute of Technology and Entrepreneurship Committee Vice-President, NJBDA, "This survey is an important step in helping us understand, in detail, the needs of the entrepreneurship community, including innovative companies using advanced technologies in New Jersey."
Special thanks to the Princeton University Graduate School and the GradFUTURES Fellowship program for providing a Fellow to assist with the study. We also want to acknowledge the support of the New Jersey Business & Industry Association (NJBIA) in promoting the survey.
To review the State of the State of Innovation in New Jersey Report and to learn more about growing the innovation economy in New Jersey, view the report here »