Via EdgeMarket and our Lead Agency status, Edge connects our members with industry-leading vendors for streamlined solutions procurement. We've invited our vendor partners to share their stories and expertise with our members via guest blogs on the Edge website.
This blog is shared in partnership with


---
As they navigated the turbulence of the past few years, colleges and universities were forced to make fundamental changes in how they operate—and many are still trying to recover. A 2021 survey from the Association of American Colleges and Universities (AAC&U) found that 74% are facing financial difficulties, while another 37% are struggling to build the capacity for long-term institutional change and transformation. In the face of unprecedented challenges, administrators are looking for a path forward. Darren Catalano, CEO of HelioCampus, believes that the answer might lie in a new approach to institutional effectiveness, one that helps ensure the path to financial sustainability and fulfillment of their mission.
Institutional effectiveness (IE) is not new to higher education. Historically, colleges and universities established IE offices to oversee matters related to the institution's regional accreditation process and to provide a broad array of research and reporting services to internal and external stakeholders. According to Catalano, however, we're seeing early indicators of a major institutional effectiveness evolution. We sat down with him to chat about how IE is changing, the challenges that colleges and universities face as they implement new methodologies, and how HelioCampus and AEFIS together are helping institutions bridge the gap between academic outcomes and financial sustainability.
Q: You've talked before about how higher education is experiencing an "Institutional Effectiveness evolution." How have you experienced that change over the past decade?
A: In 2011, I was hired at the University of Maryland Global Campus (UMGC) as their Assistant Vice President in Institutional Effectiveness. Our department was focused primarily on assessment, institutional research, business intelligence, and analytics.
A decade later, after working with a multitude of institutions, I've seen the role of institutional effectiveness expand. It's no longer relegated to a point-in-time perspective for accreditation—it's now become a methodology shaping how we run colleges and universities. We're in what I like to call the early innings of "Institutional Effectiveness 2.0."
Q: How do you define "Institutional Effectiveness 2.0?"
A: Our entire definition of IE is shifting. It's becoming more strategic, and institutions are starting to see how critical it is for long-term decision-making. But many colleges and universities still don't have a clear definition of what IE means and what they're hoping to achieve with it. To help them, we at HelioCampus have identified four key pillars of IE:
1. Growth: Driving student success and net tuition revenue.
2. Sustainability: Understanding academic program performance and market opportunities.
3. Efficiency & Effectiveness: Managing costs and streamlining operations.
4. Outcomes: Assessing student learning outcomes and measuring how they translate to skills and employment opportunities.
These pillars are foundational to IE 2.0. But IE 2.0 also marks a change in how schools think about institutional effectiveness. Colleges and universities are shedding their narrow focus on assessment and accreditation and thinking about IE as a methodology, with sustainability as the end goal. It's not just a compliance exercise any more—it's a key capacity for success. IE 2.0 also broadens the scope of what kinds of data institutions should measure. Colleges and universities embracing IE 2.0 are taking a holistic view of the student when gathering data. This view likely includes academic performance and co-curricular activities for the purposes of authentic assessment and skills articulation.
Q: What are some of the challenges colleges and universities are facing as they adopt IE 2.0?
A: Most colleges and universities are working toward the four pillars we outlined above, but few can dive in and find the answers to these questions on their own. Many schools are working with siloed legacy systems that make collecting and using data in real-time almost impossible. These questions have complex answers—even if analysts have the data they need at their disposal, it's a time-consuming process to collect and report on it, particularly in decentralized systems that weren't designed for IE 2.0.
Essentially, there are two main challenges here: gathering the data and understanding what to do with it. HelioCampus helps institutions overcome these challenges by dismantling data silos and creating platforms that streamline visibility and access to institutional data for analysis, reporting and decision making. For IE 2.0 to be truly effective, colleges and universities need visibility into both academic and administrative data in near real-time. AEFIS joining HelioCampus will accelerate the ability for colleges and universities to implement IE 2.0.
Q: You mentioned AEFIS recently joined HelioCampus; what inspired this partnership, and how does this fit into HelioCampus' overall strategy to support colleges and universities?
A: We started HelioCampus in 2015 because we saw the need for an analytics platform that focused on the unique requirements of colleges and universities. Since then, we've steadily expanded our capabilities to meet the needs of the institutions we serve. In the aftermath of Covid-19, for example, we saw that colleges and universities had to fast-track their ability to make informed budget decisions, which prompted our acquisition of ABC Insights in 2020, adding the Benchmarking Consortium to our portfolio of offerings.
Now the push for financial data has evolved into a focus on institutional effectiveness—administrators want to be able to join financial data with academic outcomes to get a comprehensive view of how their institution is performing. They need the ability to measure operational efficiency, academic performance, and student success in one place. Individually, HelioCampus and AEFIS were helping institutions tackle some, but not all, of those goals. We realized that by joining forces, we could combine student learning outcomes assessment data with other institutional data to provide an unprecedented level of visibility. Simply put: we're stronger together than we could be apart.
Q: How do you envision helping colleges and universities embrace IE 2.0?
A: HelioCampus aims to connect assessment data with other institutional data to enable a more comprehensive approach to institutional effectiveness and decision making. This approach will directly support accreditation, financial sustainability, and student success initiatives.
Q: What message do you have for colleges and universities thinking about the future of institutional effectiveness?
A: We know that for many institutions, the future feels uncertain. By embracing the evolution, they are setting themselves up with the infrastructure, visibility, and processes for data-informed decision making they'll need to navigate their path to long-term sustainability and student success.
It's worth noting that there is a third phase of the evolution that will require embracing digital transformation of the college transcript. Stay tuned for more on this in a future post.
Together, HelioCampus and AEFIS will usher in a new era of institutional effectiveness—a comprehensive, data-informed approach towards continuous improvement and learner success as a methodology to run an institution.
Written By: Darren Catalano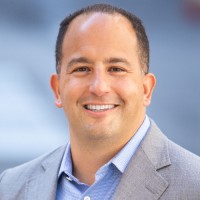 Darren Catalano, CEO, HelioCampus
Darren Catalano is the CEO of HelioCampus, leading company strategy and operations. Since launch, Darren continues to serve as the face of HelioCampus in the market through both a business development and thought leadership capacity. Prior to joining HelioCampus, Darren was the Vice President of Analytics at the University of Maryland University College (UMUC) from 2011 to 2015 where he helped develop a culture of data-driven decision making. Under Darren's leadership, the Office of Analytics built a technology platform and sophisticated approach to data analyses for senior leadership across the university community. Recognizing the value this model could bring to other universities, the University System of Maryland Board of Regents approved a plan to spin off the Office of Analytics into a new company, HelioCampus. Prior to joining UMUC, Mr. Catalano ran the Business Intelligence department at Rosetta Stone, where he built new analytics functions into finance, accounting, sales, marketing and customer operations. He began his career as an analyst for Verizon Communications (formerly Bell Atlantic) before working as a management consultant across multiple industries. Mr. Catalano earned a BA in Economics from the University of Virginia.