The world of esports has become a rapidly growing industry, where interest in competitive gaming continues to spread across the globe. In the next four years, the industry is expected to reach $9 billion globally. Many institutions of higher education are incorporating esports degree programs into their curriculum, helping to attract large numbers of students who are interested in learning these skill sets and the business side of this fast-growing industry. "Esports is an expanding community of players, industry professionals, and academics who drive the sector to new heights," says Dr. Forough Ghahramani, Ed.D., Associate Vice President Research, Innovation, and Sponsored Programs, Edge. "Esports research is a critical part of that journey and has developed into a field of study spread across several academic disciplines, including business, sports science, cognitive science, informatics, law, media studies, and sociology."
Professional sports in general have an enormous economic impact on a community and many institutions today offer sports management degrees. "With esports now trending to be the next generation of sports, a wider demographic of people can watch, participate and play," says Bill Penders, Managing Director, Sector Development, New Jersey Economic Development Authority (NJEDA). "In this country, major league sports corporations are well aware of the challenge they are facing to try and attract these new generations of viewers. Many stadiums are building esports lounges into their facilities to get more of this demographic to come to the stadium and watch a game. The world of esports is already creating a substantial economic impact globally. We're looking to attract esports companies that see New Jersey as a place to expand their business, add skilled workforce, and further help cultivate the esports ecosystem within the State and across the country."
Innovation Center
Looking to tap into this growing industry and further build upon the strong tech infrastructure and innovation ecosystem of New Jersey, Stockton University, an Edge member, has established an Esports Innovation Center (EIC) at the institution's Atlantic City campus. With funding support from the NJEDA, the Center aims to create new academic and workforce development opportunities and expand research initiatives and technology innovation. "Two years ago, a mandate came through the governor's office to the leadership team at the NJEDA that wanted to establish New Jersey as the hub for esports in the country," says Penders. "We started to engage as many stakeholders as possible across the state who were affiliated with esports or had a private sector business within the esports ecosystem. We also spoke with schools that had esports teams and had a vested interest in developing esports curriculums for their students. Through the course of that dialog, we were able to connect with Stockton University and partner together to help cultivate and catalyze the esports sector in New Jersey."
By bringing in the additional insight and expertise of various technology companies, both large and small, the idea of the EIC began to take shape. "Through these strategic partnerships, we began to determine how to create an innovation center that elevates esports in New Jersey," shares Penders. "In about a year of planning, we created the concept of the EIC, where private companies can join as members to help fund operations." Edge is pleased to have finalized a partnership agreement with Stockton University and the NJEDA, and through this partnership, Edge's contributions will include input to strategic planning and the business plan, startup services for establishment of the non-profit, and back-office support for the EIC that include legal, human resources, and financial services.        
"Supporting the EIC is part of a wider NJEDA's strategic effort to grow New Jersey's innovation, sports wagering, and fintech ecosystems," notes NJEDA Chief Executive Officer, Tim Sullivan. "Establishing New Jersey as the State of Innovation requires thinking outside the box and supporting new industries that have shown strong potential for sustainable, equitable growth. Esports is a large and rapidly growing industry that has the potential to provide significant economic benefits to communities throughout New Jersey. The Esports Innovation Center at Stockton University is a timely project that will help to establish New Jersey as a hub for the U.S. esports industry and will create new opportunities for New Jersey businesses and workers to enter the sector."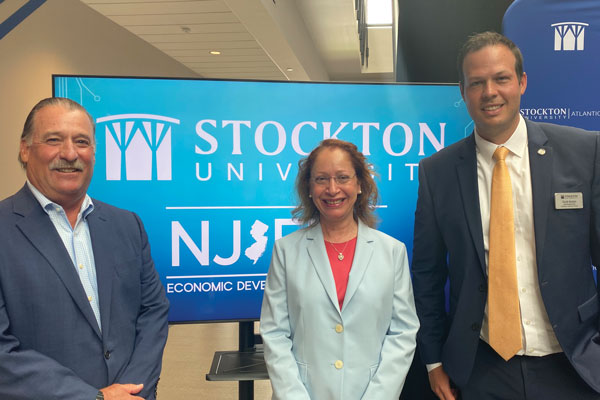 Bill Penders, Managing Director, Sector Development, (NJEDA),
Dr. Forough Ghahramani, and Scott Houston, CIO, Stockton University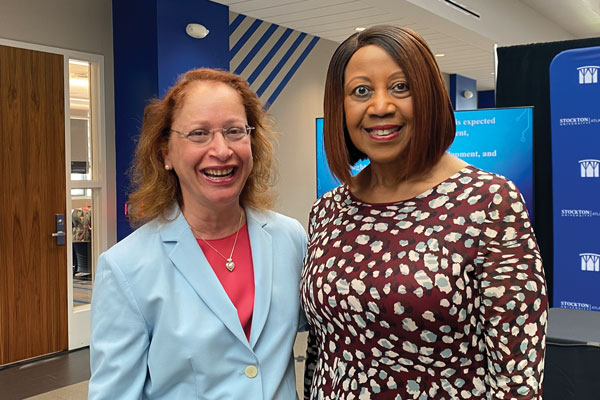 Dr. Forough Ghahramani with Sheila Y. Oliver,
Lieutenant Governor of New Jersey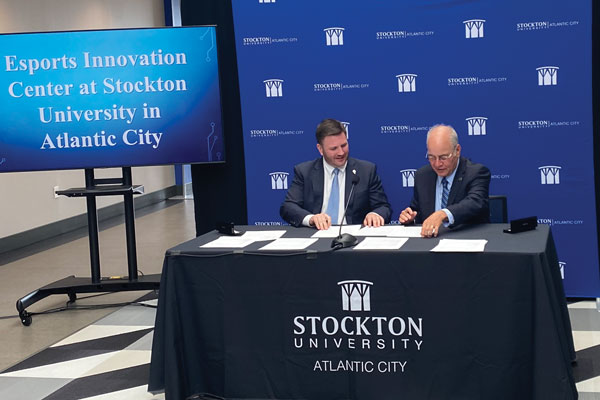 Brian Sabina, Chief Economic Growth Officer, NJEDA
and Dr. Harvey Kesselman, President, Stockton University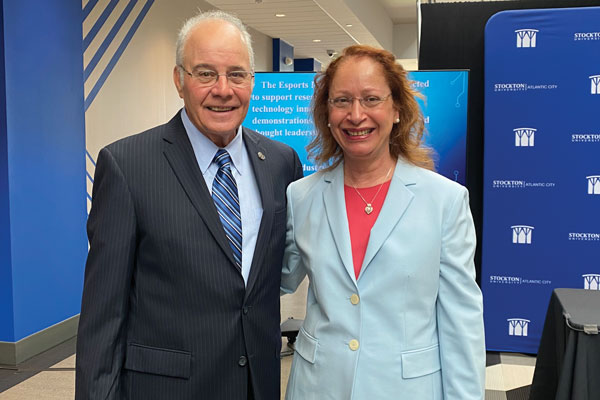 Dr. Harvey Kesselman, President, Stockton University and Dr. Forough Ghahramani
Growing the Esports Ecosystem
As a hub for esports innovation, the EIC will continue to grow New Jersey's esports ecosystem and find new ways to create career-ready graduates. With this mission in mind, the Center's top initiatives include catalyzing collaborative technology innovation, supporting workforce development and education in the esports industry, promoting best practices for regulating wagering and ensuring integrity in esports, advocating for diversity, inclusion, and healthy gaming practices, and positioning New Jersey and Atlantic City as esports leaders in an emerging and competitive field.
Working with Stockton and industry partners, the EIC also looks to shape the esports culture and set a strong example for regulation and integrity practices. "Stockton University and Atlantic City have been leaders in recognizing the potential of the esports industry. Stockton's Chief Information Officer, Scott Huston, helped make Stockton among the first colleges in the nation to recognize esports and its impact on the future of both entertainment and gaming technology," explains Stockton University President, Harvey Kesselman. "We look forward to collaborating with public and private partners to make New Jersey a hub for esports innovation." 
"Esports has the potential to have a huge impact on the future of New Jersey so we are excited about having the Esports Innovation Center located on the Stockton Campus in Atlantic City. We look forward to bringing together both public and private partners to help innovate, create workforce development and academic opportunities, and guide the future of esports," adds Scott Huston, Chief Information Officer at Stockton University.
To help in this mission and deliver a superior esports experience, the EIC uses esports connectivity via EdgeNet, which offers high bandwidth, low latency, highly available connections and provides direct peering connections to all major gaming platforms. With local esports peering taking traffic off the commodity internet, Edge's optical fiber high performance network makes real-time gaming and lightning-fast competition possible, while simultaneously minimizing service disruptions.
Goals of the Esports Innovation Center
ONE
Catalyze collaborative technology innovation
TWO
Support workforce development and education in the esports industry
THREE
Position New Jersey and Atlantic City as esports leaders
FOUR
Promote best practices for regulating wagering and ensuring integrity in esport
FIVE
Advocate for diversity, inclusion, and healthy gaming practices as essential components of esports culture
Developing a Skilled Workforce
From supporting software development and gaming products to event production, data analytics, and machine learning/AI, the esports industry relies heavily upon innovative technology and high-tech manufacturing. The EIC focuses on teaching in-demand skills needed in the workforce and supporting esports-related research. "We want to have skilled graduates who understand the landscape of esports and everything that goes along with the industry," says Penders. "Then, when local companies or private sector companies come to the United States looking for a place to plant their flag to set up esports operations, they'll look no further than New Jersey. Businesses will recognize that our local institutions have grasped this opportunity to build curriculums that support this growing industry and create a highly-skilled workforce."
Many innovation and research centers often create intellectual property as a result of the activities occurring at the institutions and the private sector companies who are devoting resources to exploring potential technological advancements within the esports environment. "Traditionally, the model is intellectual properties are owned by the school, but are then licensed out royalty free to the members of the center for the use within their own private sector companies," explains Penders. "We expect this type of innovation and product development to occur at the EIC and provide valuable opportunities for private sector companies to gain an edge on their business by employing a new technology advancement from the esports arena."
"Even more importantly," Penders continues, "Companies say they will join as a member of the EIC because of the access to a skilled workforce who understand this industry and can bring value to their business. By participating in this innovation center, big companies will devote their resources to the EIC and gain exposure to Stockon students and hopefully other schools that would like to join the ecosystem."
"The Innovation Center will promote innovative collaboration and partnerships that position the state of New Jersey as a leader in the esports industry, resulting in job growth and economic development," adds Ghahramani. "Esports has the potential to engage players and fans regardless of background, and the Center can play a key role in promoting diversity and inclusion and healthy gaming practices, and identifying opportunities for underrepresented groups as the esports industry expands." Along with student activities, the EIC will also host events for the local community, including coding and hacking challenges and esports competitions. 
In addition to the Memorandum of Understanding with Stockton University, the NJEDA concurrently approved a separate agreement with New Jersey City University (NJCU) to support the Sports Wagering and Financial Technology Workforce Development and Innovation Center at NJCU. This Center will provide an incubator for the sports wagering and fintech industries and act as a connector between industry, academia, and relevant State agencies to grow and support innovation in sports wagering technology and fintech. 
A thriving esports program can help your institution generate revenue, boost recruitment, and set you apart from the competition. To learn more about the dedicated esports connection via EdgeNet, visit njedge.net/blog/edge-net-a-new-standard-of-excellence.