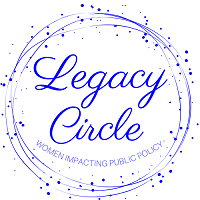 Edge is pleased to announce that the Associate Vice President for Research, Innovation, and Sponsored Programs, Dr. Forough Ghahramani, is an inductee into the inaugural Women Impacting Public Policy (WIPP) Legacy Circle recognizing past leaders who worked tirelessly towards the organization's success. In response to receiving this distinction, Forough stated, "I'm honored to be named an inductee and am proud to be in the company of such accomplished women. For many years, I worked alongside a group of outstanding women who helped advance WIPP's mission to work on behalf of women entrepreneurs to strengthen their impact on our nation's public policy, creating economic opportunities, and forging alliances with other business organizations."
Celebrating its 20th Anniversary and Women's History Month, the WIPP Legacy Circle was developed to honor the amazing women who previously held leadership roles in the organization and who, through significant contributions—such as time and expertise—impacted the lives of women business owners across the country. The inductees demonstrated a strong commitment to women's business development, influencing policy, strengthening communities, and growing the economy.
To learn more about WIPP, visit www.wipp.org/page/legacycircle.