Excelling in a Digital Teaching & Learning Future
Thank you to Middlesex College for hosting the EdgeCon Spring 2023 event dedicated to Excelling in a Digital Teaching & Learning Future. With over 200+-attendees representing 44 institutions across the region (and beyond!) feedback has been overwhelmingly positive–with many giving high marks to the robust number of Breakout Sessions (20 total!!!) featuring topics ranging from Chat GPT: A Discourse Analysis of AI Generated Responses to First Year Composition Assignments, to Researching the Potential Cybersecurity Threats by Using Virtual Reality Headsets , to Use of Retrieval Practice as a Learning Analytics Tool , to Extended Reality: A Primer and Its Potential in Higher Education , to Revolutionizing Learning: The Pros and Cons of Artificial Intelligence in Education.
Featuring 18 high profile, industry leading vendors from across the academic enterprise, attendees had the opportunity to engage with and learn from a growing community of digital learning professionals while discovering innovative solutions to help institutions solve today's biggest digital learning challenges.
Stay tuned for the full, comprehensive summary in the Spring/Summer edition of View From The Edge »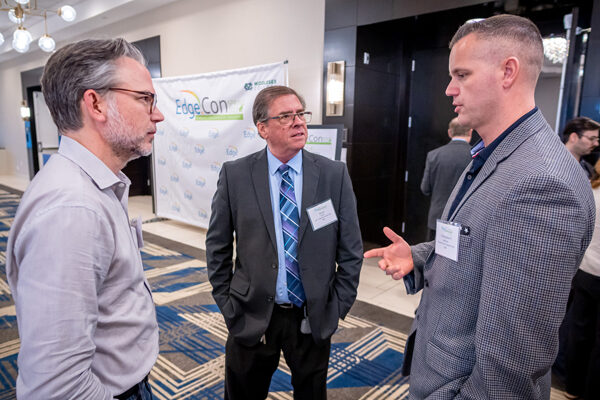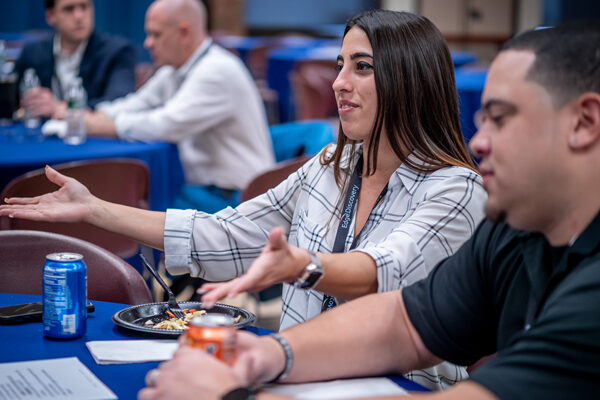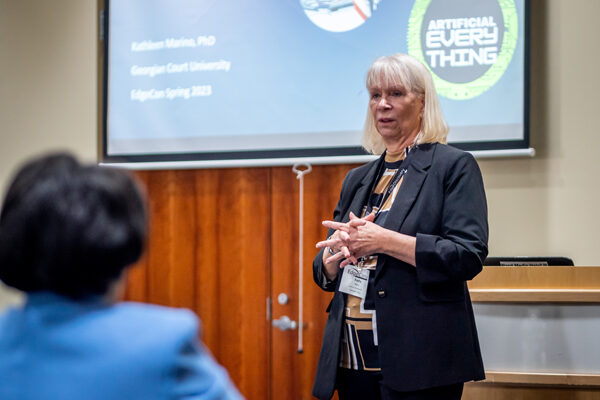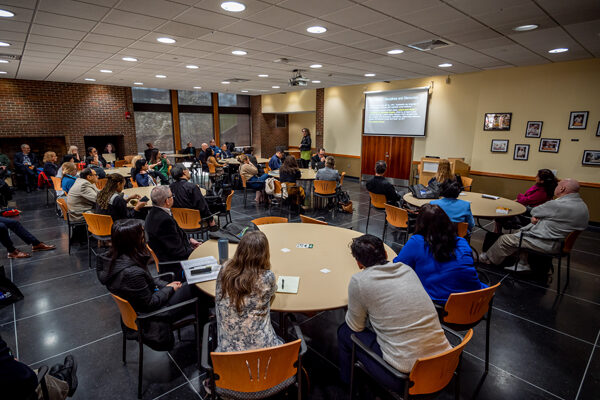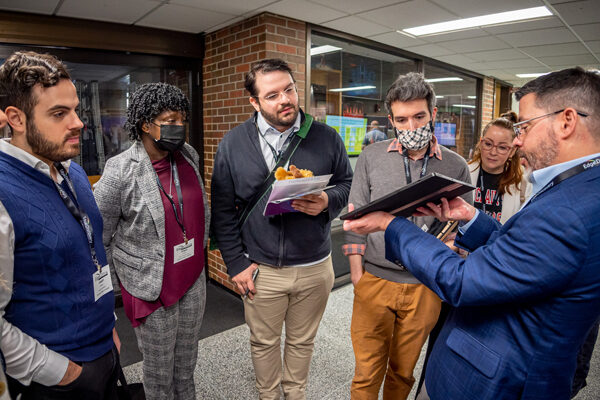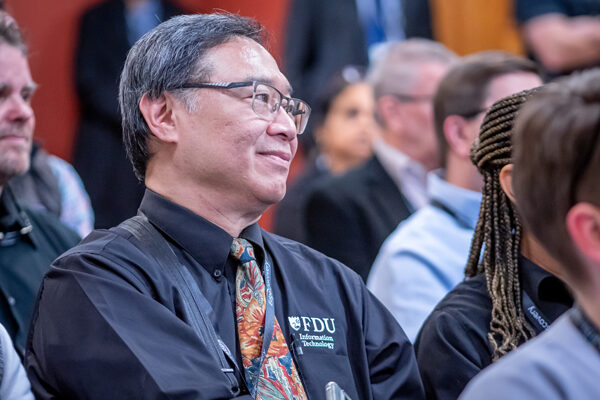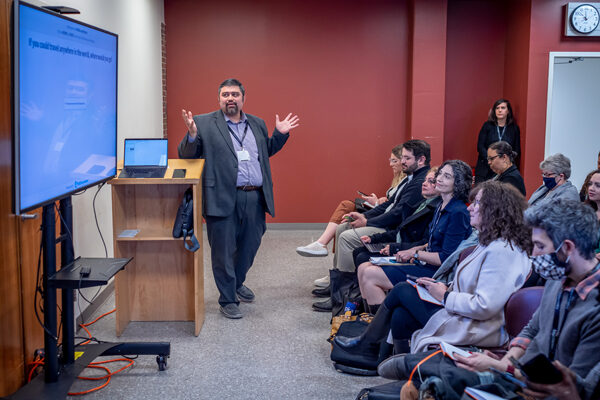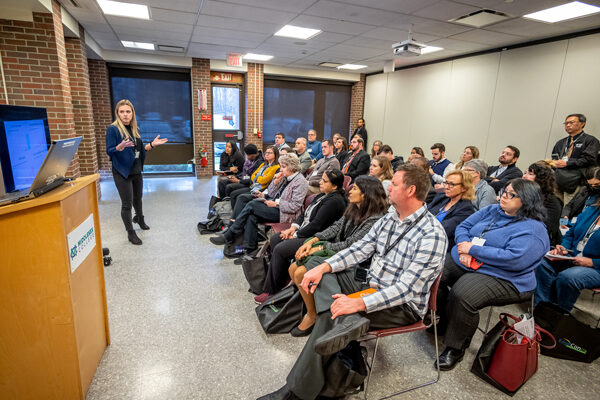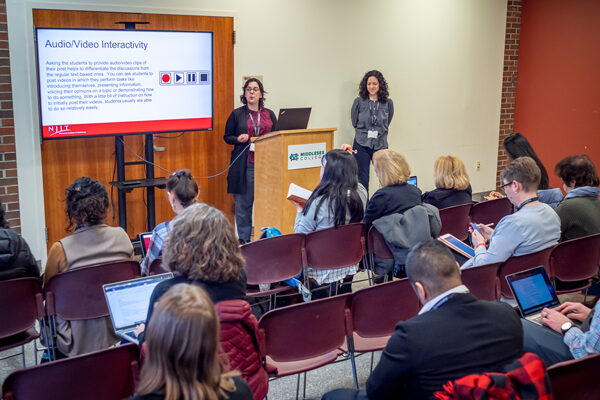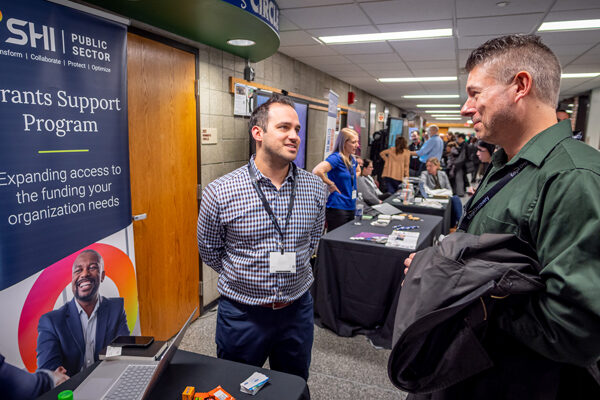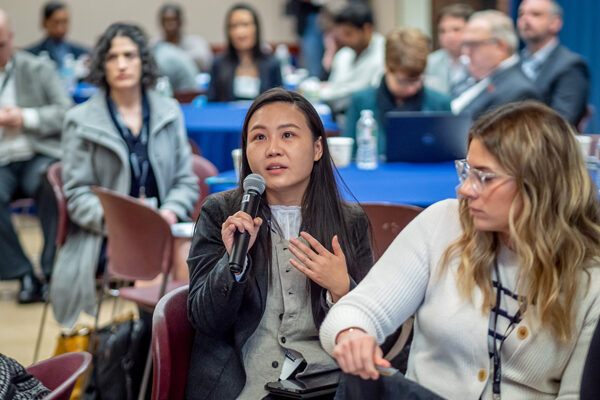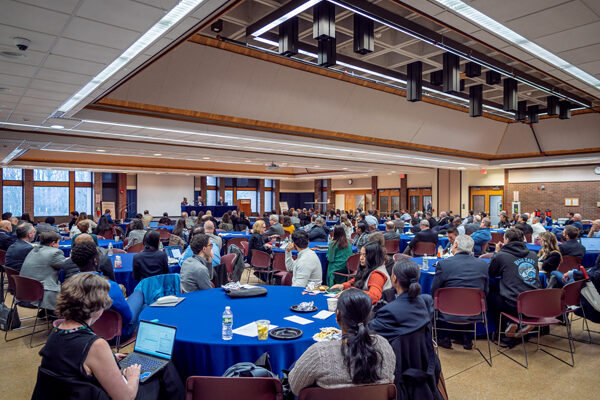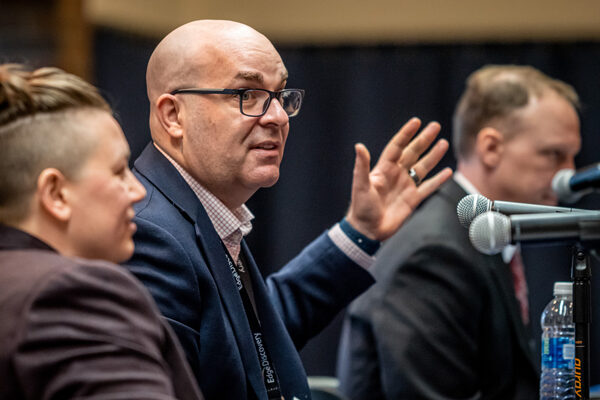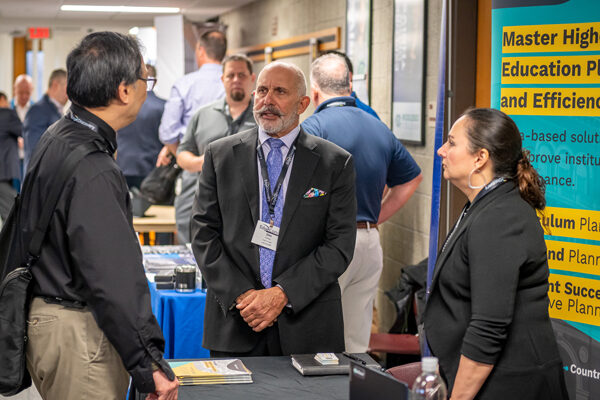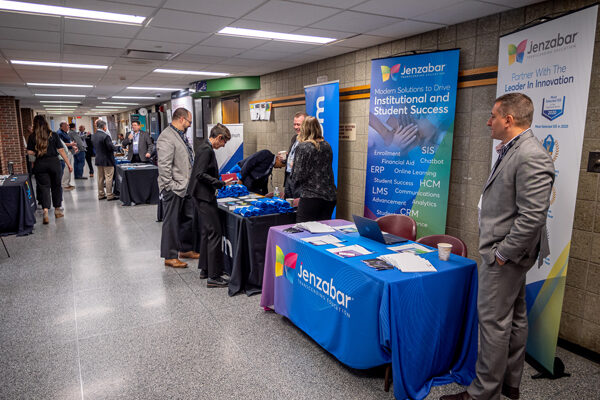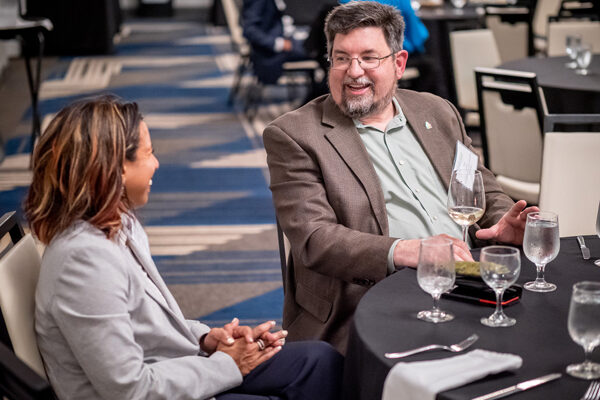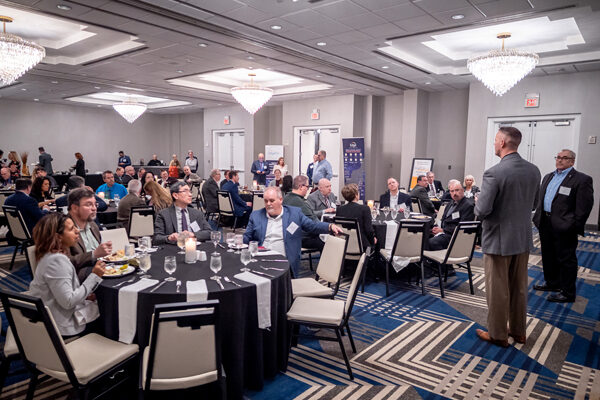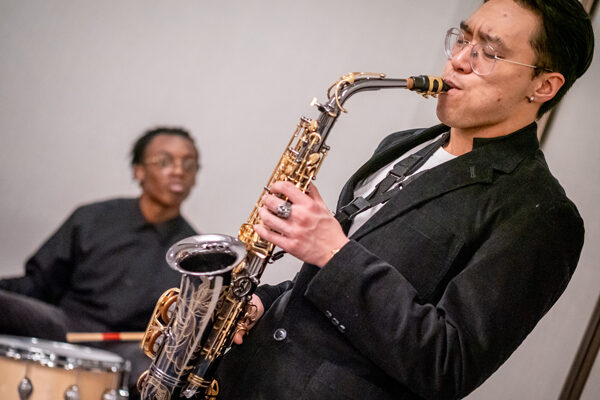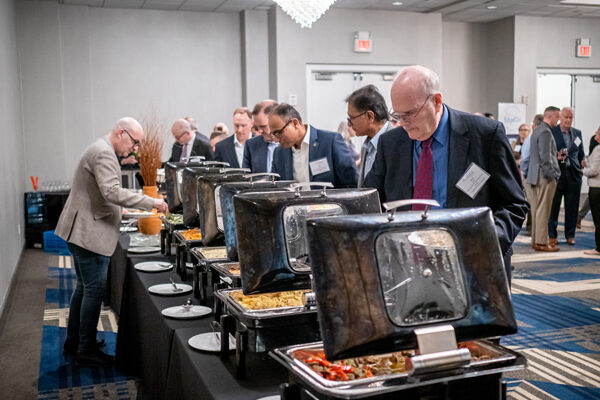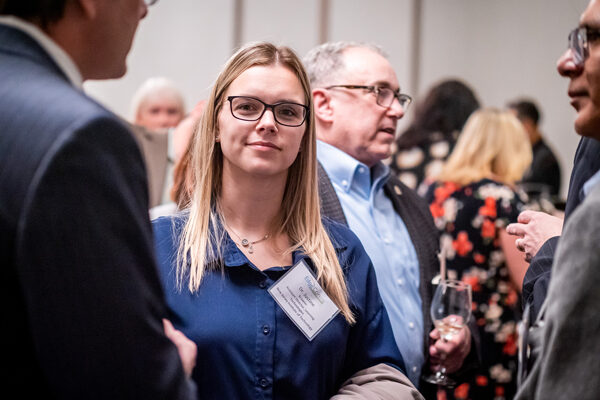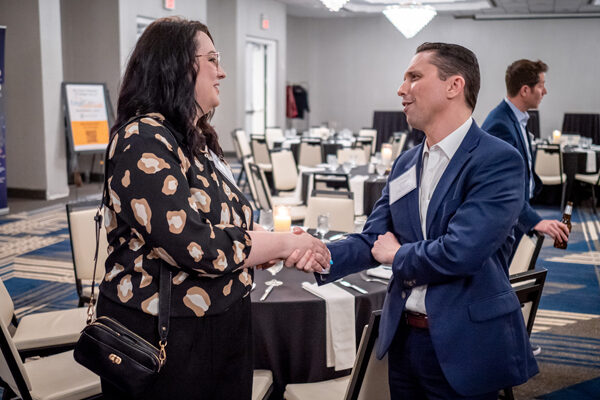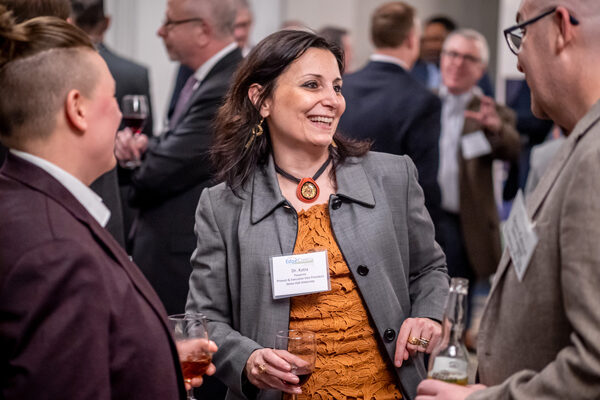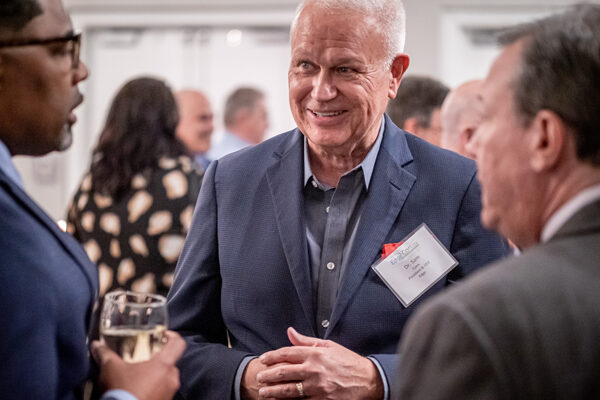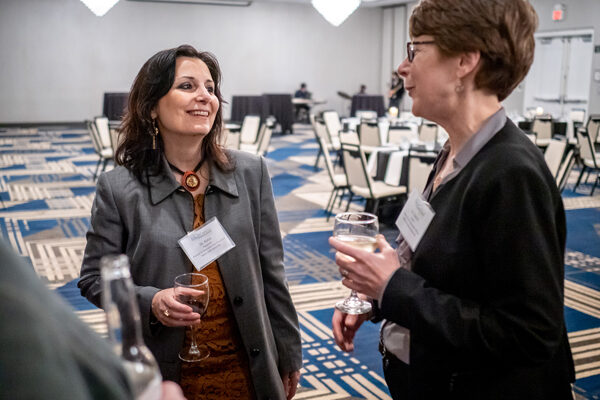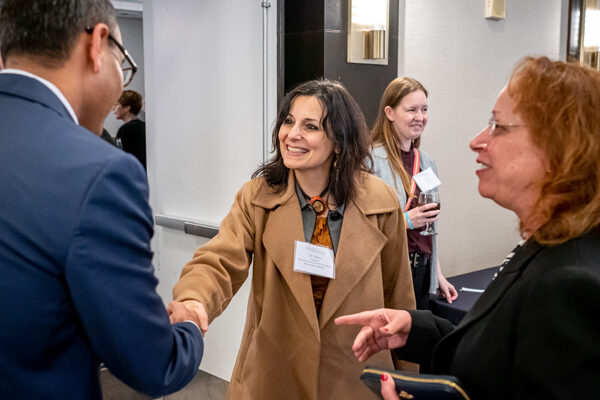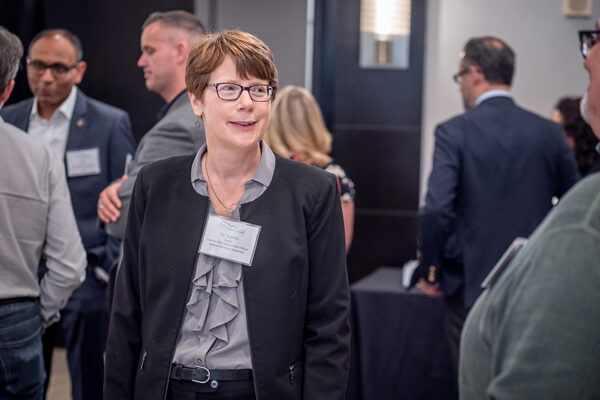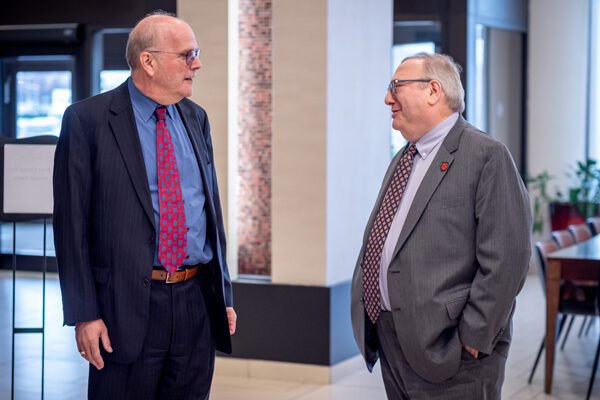 AGENDA
8:00 am – Check-in Opens
---
8:30 – 9:30 am – Breakfast & Exhibitor Networking
---
9:30 – 10:30 am – General Session: Panel Discussion
The Evolution of Digital Learning, and What Comes Next
The shift to include more online and digitally-integrated learning options, necessitated and accelerated by two-plus years of pandemic-related demands on the teaching and learning community, is here to stay. Where online and digital learning was once the province of specialty institutions and programs, all institutions now need to seriously consider a strategic digital presence moving forward. Student surveys increasingly show a demand for integrated digital aspects for all programs, including traditional on-campus education, highlighting the need to meet student expectations while retaining quality and integrity of education.
How were institutions with mature online programs able to capitalize on their strengths going into the pandemic? How can we transition investments during the pandemic to ensure quality and sustainability for digital learning moving forward? In this session, our panel will discuss the evolution of digital learning, and how we can use the challenges and lessons learned over the last two-plus years to make strategic and pedagogical choices that benefit our students, faculty, and institutions.
Moderator:
Josh Gaul
Chief Digital Learning Officer
Edge
Panelists:
Lindsey B. Carfagna, PhD
Director of Learning Experience Design, Office of Online Programs
Affiliated Assistant Professor, Department of Sociology and Criminology
Villanova University
Stephen T. Kabrhel
Dean, Online Learning
The Community College of Baltimore County
---
10:45 – 11:30 am – Breakout Session 1
Terrace Room: Researching the Potential Cybersecurity Threats by Using Virtual Reality Headsets
For many students pursuing higher education in the field of cybersecurity, gaining practical experience and knowledge are critical to contributing to their learning and understanding of this potentially complicated topic.  For the year 2022, students from the Kean Center for Undergraduate Research and Fellowships (CURF) have been assigned to the Kean University Center for Cybersecurity to partner in collaborative research activities. An instrumental start for such efforts is to find a mutually agreeable and interesting topic to pursue. In several initial discussions with the CURF-assigned student, the topic of Virtual Reality has emerged as an interesting theme. The use of Virtual Reality (VR) technology, through the use of headsets, is becoming popular in industries such as healthcare, education, medical training, and rehabilitation services, to name a few. Virtual Reality offers an environment of simulation and an experience that can provide a real-time interaction with the virtual world (International Virtual Reality Healthcare Association, 2022).  Similar to the growth of the Internet of Things (IoT) industry, the global market for VR technology is poised to continue to grow at a notable compound annual growth rate. With the complementary use of these excellent and possibly fun technology devices, there is the potential for cybersecurity or information security threats and emerging risks. Potential breaches can be possible with any Internet-connected device or technology, and the VR solutions can often be associated with Internet connectivity. For this upcoming 2022-2023 CURF research effort in collaboration with the Kean Center for Cybersecurity, research into the possible cybersecurity and information security threats will be explored as well as a list of potential mitigation strategies.  
Presenter:
Stan Mierzwa
Assistant Director & Lecturer
Kean University
Room 102: Enable, Encourage, Engage, and Empower: NJIT's Digital Teaching and Learning Strategy and Journey
The New Jersey Institute of Technology team intends to share some of the work and effort it has been undertaking in teaching and learning to achieve the university's mission and objectives. The team firmly believes that to excel in a digital teaching and learning future entails committing to the following now:
Enabling both faculty and students by equipping them with tools and providing them with the technical support

Encouraging active learning techniques through technology

Engaging students using enhancements from the pandemic and emerging technologies

Empowering students through immersive learning experiences
Representatives from the Teaching and Learning and the User Services groups from the university's Information and Services Division will conduct a traditional presentation. Each representative will discuss the various projects that support teaching and learning. The team will allot time toward the end to answer questions from the audience.
Presenters:
Justine Krawiec
Assistant Director, Learning Technologies
New Jersey Institute of Technology
Joel Almoradie
Instructional Technology Analyst
New Jersey Institute of Technology
Room 100: Creating Engaging Discussions
Learn how to create engaging discussion questions for online courses for any subject matter including math, computer science, biology, etc. This is an interactive presentation that works with the audience with real-world examples and exercises. 
Presenters:
Vanessa Leonardo
Instructional Designer
New Jersey Institute of Technology 
Melissa Battisa
Instructional Designer
New Jersey Institute of Technology
Room 101: Igniting the Classroom
Despite the post-pandemic concerns of enrollment in higher education, enrollment in graduate programs in 2020 and 2021 were much better than anticipated, greatly due to the growth in online programs (EAB, 2022). Most online learners are employed and enrolled in academic programs out of a motivation to further their career (BestColleges, 2022). Not surprising, then, is the online learner's desire to fit new academic demands easily into their existing personal and professional responsibilities. Based on the premise of "enlighten us, but make it quick," Ignite style talks are five minutes in length consisting of 20 slides that automatically advance every 15 seconds. Due to their brevity, they have the potential to deliver course content in a convenient yet creative way. They also provide students with an opportunity to learn and refine presentation skills that will be valuable in the workplace. This traditional presentation will provide data on the use of lightning talks in educational settings, and identify the rationale for their use in online classrooms. The presenter will demonstrate an Ignite talk and describe her use of this presentation format in an asynchronous graduate social work course. 
Presenter:
Nicole Zmuda
Assistant Professor
Fairleigh Dickinson University
---
11:45 am – 12:30 pm – Breakout Session 2
Terrace Room: Use of Retrieval Practice as a Learning Analytics Tool
Retrieval practice or learning by testing using multiple choice and True/False Quizzes called Quizlets was utilized to study its impact on student performance in fully online Anatomy and Physiology I lecture and lab courses as well as in an upper division Histology course all offered in asynchronous fashion in online courses taught over the past few years.  Learning analytics data was generated when studying for exams in the form of the number of times students used the retrieval practice tool and what scores were earned from using the Quizlets.  R-squared analysis was also employed to produce goodness-of-fit graphs to determine how well results met expected outcomes.  Comparison of drop rates for these courses with similar courses offered in previous years also showed a decrease linked to use of retrieval practice.
The use of retrieval practice in the past in courses that were taught in face-to-face fashion was also found to increase student performance in lower and upper division biology lecture and lab exams.  R-squared analysis of these data also showed a high correlation between the use of Quizlets and the grades earned for these courses. 
Learning Objectives:
Will understand the role and value of retrieval practice methods in the learning process.

Will be introduced to learning analytics as a way to confirm the degree of learning success.

Will be introduced to R-squared analysis as a tool to measure success of learning method.

Will recognize that retrieval practice as a learning tool works well for both online and face-to-face classes.
Presenter:
Michael Kolitsky
Online Adjunct Professor
University of Texas at El Paso
Room 102: Post-semester ``Boosted Learning`` Programs
Boosted Learning, a training technique adapted to university courses, is designed to increase a student's retention of core course concepts.  It works by essentially reminding students about content through simple quiz questions – after the course has been completed.  These questions, designed to stimulate student recall and renew interest in a particular topic, are sent via email in the days and weeks following a course. The number and timing of booster notes (each of which contains a single question that can be answered in roughly 1-5 minutes) can be customized depending on the situation. 
Presenter:
Robert Zotti
Assistant Dean/Adjunct Instructor
Stevens Institute of Technology
Room 100: Using Tech Tools to Enhance Questioning and Discussion
Getting students to talk in class – at least about their learning – has been tougher for many teachers post-pandemic. There are a variety of tools, though, that can help you generate discussions in your class. Learn about how to make the most of those tools to create an engaging and interactive classroom environment. 
Presenter:
Phillip Crisostomo
Supervisor of Instructional Technology
Willingboro School District
Room 101: Real Talk about Classroom Technology
What is Classroom Equity? Is Distance Learning different than Remote Teaching? Where does lecture capture fit into our curriculum, who manages it? A hybrid classroom – does IT spec it, facilities own it, who supports it?
CBTS & RoomReady, technology integrators, are taking a technology-agnostic approach to AV system design in the classroom, offering customized, intuitive audio-visual solutions that simplify collaboration and create supportable standards in the Higher Education environment.
Technology in the classroom can be challenging. The pandemic has given us amazing advances in collaboration platforms, software feature sets, and hardware options. Not to mention a new influx of buzz words… Deciding what hardware or software we standardize on can be as challenging as how we leverage it in our curriculum.
This presentation will break down the buzz words and talk through real solutions, who they affect, and how they get supported.
Presenters:
Shaun Webb
CBTS & Room Ready
---
12:30 – 1:30 pm – Lunch & Exhibitor Networking
---
1:45 – 2:30 pm – Breakout Session 3
Terrace Room: Extended Reality: A Primer and Its Potential in Higher Education
Depending on the institution, extended reality technology is either in the Innovation or Early Adopter stage of the Technology Adoption Lifecycle. It is starting to build currency in the higher education and training-development universe, in part due to the attention garnered by Facebook's name change to Meta … and the significant investment Meta has made in the metaverse. Extended reality has the potential to recapture those positive elements that learners miss in face-to-face delivery into a learning landscape that increasingly relies upon online and hybrid learning delivery.
This session will present both a primer in the concepts associated with extended reality and its potential in higher education. It will discuss a number of introductory concepts as well as illustrate how it is being adopted by those who are deep into the Early Adopter stage and nearing that of Early Majority. These include: the differences among extended reality, virtual reality and augmented reality; existing hardware and software technologies; use cases across disciplines; building the business case for introducing this technology into your educational technology portfolio; and, different models that can be employed to introduce it at your institution.
Presenters:
Peter McAliney
Director, Professional and Executive Education
Rutgers (PEER)
Christine Janssen
Founder & CEO
edstutia
Room 102: Center Students in Technology Enhanced Learning Environments
Student-centeredness is a feature of culturally responsive pedagogy and high levels of instructional technology use. The goal of this session is to present student-centeredness as an intersection between culturally and historically responsive pedagogy and effective classroom technology integration. Educators of all grade bands can benefit!
Presenter:
Manuel Algarin
Senior Educational Consultant
New Jersey City University
Room 100: Using Canva for Online Design
In this session, instructors will present Canva, which is a free, online graphic design tool and connect learners to the vast applications this tool provides. After seeing some possible uses for Canva content, participants will begin to develop their own design project from a provided menu of options. With instructor support, participants will have the opportunity to experience the capabilities and numerous features of Canva as they share their creations via a virtual gallery walk.  
Presenters:
Jessica Garon
Instructional Course Designer
Rutgers University
Liz Hopta
Instructional Course Designer
Rutgers University
Room 101: Flexibility is the Key
At the College of Staten Island (CSI) technology upgrades and the support of teaching and learning continues to remain at the forefront of our priorities. With a limited budget, CSI implemented hyflex technology, distributed mobile devices, and provided technology support without missing a beat. Our experiences made us realize that these services should continue regardless of the teaching and learning modality. This presentation will speak to our experiences, lessons learned, and future initiatives. We will also show before and after configurations showing in real time how hyflex technology is seamless to use as well as provide feedback from users. 
Presenters:
Patricia Kahn
CIO/AVP Information Technology Services
College of Staten Island (CUNY) 
Doriann Hyland
Director Technology Training Operations
College of Staten Island (CUNY) 
Linda John
Director Classroom Technology
College of Staten Island (CUNY)
---
2:45 – 3:30 pm – Breakout Session 4
Terrace Room: Chat GPT: A Discourse Analysis of AI Generated Responses to First Year Composition Assignments
Chat GPT was launched by tech company Open AI on November 30, 2022. Open AI's website states that it is, "is an AI research and deployment company." They further state that, "Our mission is to ensure that artificial general intelligence benefits all of humanity."
Chat GPT is a Chat Bot, or large language model tool, that allegedly generates human-like speech patterns using advanced computing techniques, which pulls from vast amounts of online data. It appears that it can generate responses to complex prompts like "Explain Jurgen Habermas' Ideal Speech Situation," or "Write a Plagiarism Policy that Addresses the Use of AIs in Students' Compositions." It is generating heated response in academic settings because of its supposedly remarkable understanding of context.
Open AI's proclamation about "The benefits to humanity," where Chat GPT is concerned, have been a sticking point for instructors and professors. Chat GPT's potential for churning out content in response to assignment prompts, for instance, is a doomscroller's fantasy. Indeed, a January 16th story in the New York Times, titled "Alarmed by AI Chatbots, Universities Start Revamping How they Teach" cites several academics voicing their concerns about students' cheating, using the BOT to generate papers.
Discourse Analysis is a method by which analysts focus on what language does, beyond what is stated in the sentence, or any other medium of verbal or non-verbal expression. This presentation, then, will present a discourse analysis of a sample of Chat GPT generated first year composition papers. We hope to determine how the Bot functions in terms of meaning making at the paragraph and sentence level, to assess its understanding of academic discourse in the context of first year writing at Bloomfield College.  
Presenter:
Fiona Harris Ramsby
Associate Professor for Rhetoric and Writing
Bloomfield College
Room 102: Awareness of Assistive Technology in the Course Design Process Creates a More Egalitarian System in Human Development
The principal argument of this writing suggests that the lack of awareness of assistive technology by professors creates barriers that violate the rights of the individual with a disability under U.S. law. Several theories were explored that were relevant to learning and human development.
Presenter: 
Humberto Hernandez Ariza
Director of Online Learning and Instructional Design
D'Youville University
Room 100: Designing Online Courses for Continuing Education Learners
Montclair State University's recent acquisition of Canvas Catalog challenged its instructional design team to adapt existing course design practices for use with a continuing education audience, requiring design and procedural changes keeping the unique considerations of non-traditional learners in mind. In this session, Montclair's instructional designers will share lessons learned, strategies for collaborating with subject matter experts, and tips for designing a streamlined course template in Canvas for non-traditional learners.
Presenters:
Joseph Yankus
Instructional Designer
Montclair State University 
Patrick Scioscia
Lead Instructional Designer
Montclair State University
Room 101: You Have to be Slow and Steady to be Quick and Nimble
Many campuses have begun to engage in a reevaluation of their broader technology commitments post-COVID.  Seton Hall University has a long history as a pioneer in the innovative use of educational technology. Consistent investments in both technology and people were the key to our success.  In the past year, we have begun a grassroots, digital transformation process that seeks to be both nimble and responsive, while at the same time maintaining and advancing the University's liberal arts mission and strategic goals.     
This panel will discuss the restructuring of our Teaching, Learning, and Technology Roundtable (TLTR) into a campus-wide strategic planning group, tasked with visioning the future role of technology on campus. Guiding questions are: (i) How will technology shape our ability to meet the changing needs of college students while preserving the core values of a Seton Hall University education? (ii) What critical changes in higher education do we anticipate in the next 5-10 years, and what do we need to do today to prepare for them?
Key topics include:
Rethinking our Mobile Computing Program

Advancing digital fluency skills by becoming an Adobe Creative Campus

Post-pandemic realization of technology impact on teaching and learning and work/life balance

Liberal arts education and professionalization of the field
Presenters:
Renee Cicchino
Director of Instructional Design & Training
Seton Hall University 
Michael Taylor
Associate Professor, Political Science and Public Affairs
Seton Hall University
---
3:45 – 4:30 pm – Breakout Session 5
Terrace Room: Revolutionizing Learning: The Pros and Cons of Artificial Intelligence in Education
Artificial intelligence (AI) has certainly had a significant impact on many aspects of society, in movies, an Uber or Lift, and now in education. The use of AI in education, such as the use of AI-powered essay writing tools, can be seen as both a good thing and a bad thing, depending on the context and how it is used.
On the positive side, AI-powered tools can help students save time and effort by automating certain tasks, such as research or writing. These tools can also provide students with additional resources and support, such as by suggesting alternative ways to express an idea or by providing feedback on the structure and clarity of an essay.
However, there are also potential drawbacks to the use of AI in education. Some people may be concerned that relying too heavily on AI-powered tools could lead to a reduction in critical thinking and creative problem-solving skills. There is also the risk that students may become too reliant on these tools, which could undermine their confidence and ability to complete tasks independently.
Presenter:
Kathy Marino
Lecturer
Georgian Court University
Room 102: Quality Assurance Certificate Program: Crafting Your Course Design with Quality Matters
Designing a quality online course can be time consuming and often leave you feeling overwhelmed. Is there a systematic way you can use to design a quality online course in less time and efforts? This session will showcase a quality course development process with design tools and course templates that are based on the Quality Matters rubrics, and supported by research and applications. You will walk away with the tips and tools that have helped many faculty to create quality online courses and enhanced the teaching/learning experience. 
Presenter:
Jae Kim
Sr. Instructional Designer
William Paterson University
Room 100: Providing Feedback in Online Math Courses
In this traditional presentation session, we will review the benefits of incorporating video feedback in online math and science classes to enhance teacher-student communication and provide visual examples. With a focus on best practices and a range of tools, including iPads, cell phones, and laptops, we will explore the literature and demonstrate how to effectively create and deliver video feedback. This session is ideal for math and science teachers looking to improve their feedback techniques and will cover techniques for both small and large class sizes at a variety of levels. Participants will also gain a solid understanding of the different apps and tools available for creating and sharing video feedback in their LMS, YouTube, and/or Google Drive.
Presenter:
Grace Cook
Associate Professor
Bloomfield College
Room 101: Humanized Online Learning: TCNJ's Approach to Increasing Engagement & Presence in the Virtual Classroom
How can we, as instructors, deliver quality learning experiences in the virtual space when cameras off and mute buttons on has become the "new normal"? In this session, we will examine practical strategies for improved engagement in synchronous online courses that mirror pedagogical techniques used in the face-to-face classroom to build community and connection.
Lessons learned from the pandemic meant that most institutions who offered in-person experiences had to quickly pivot to address student needs and expectations virtually. As such, The College of New Jersey set out to expand its blended and online learning offerings in Fall 2022 while preserving the quality of in-person instruction.
It became clear that the classroom culture and meaningful connection students expect on campus would not translate to a grid of squares, so TCNJ sought an alternate way to best facilitate synchronous sessions. 
In this session, we will build upon key takeaways from piloting a next-gen virtual learning experience to examine practical strategies for improved engagement in synchronous online courses. Topics covered include community building both in and outside of the virtual classroom, establishing social presence, and humanizing online delivery to avoid burnout.
Presenters:
Ellen Farr
Instructional Designer
The College of New Jersey 
Nicole Baldassarre
Head of Partnerships
InSpace Proximity, Inc.
---
4:30 – 6:00 pm – Reception, Refreshments, and Networking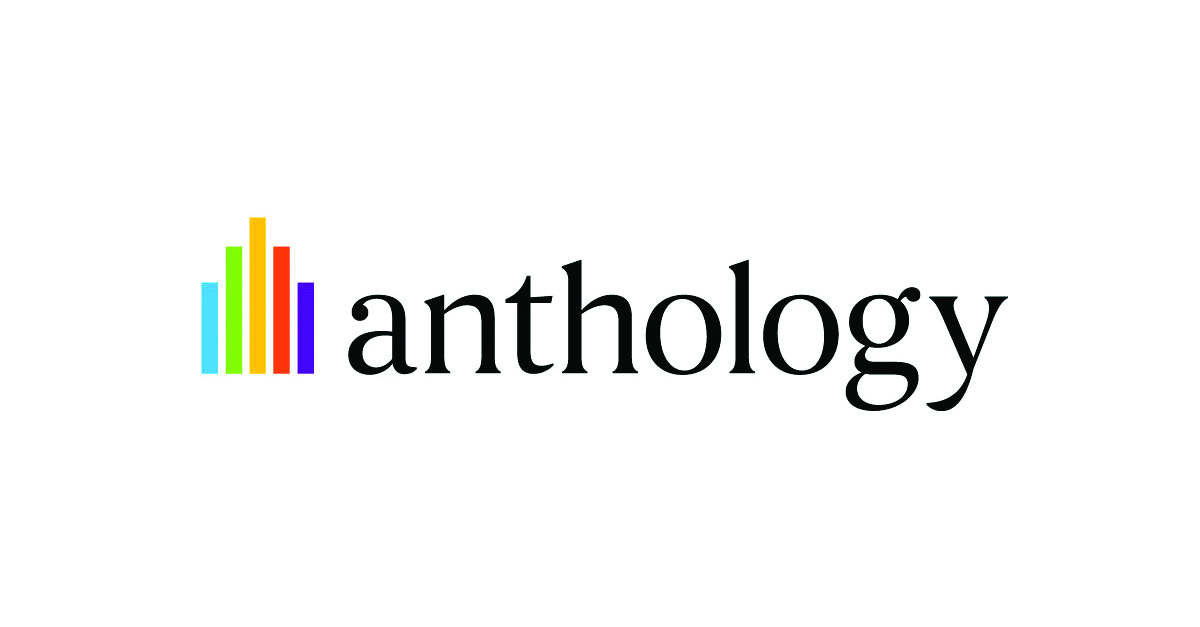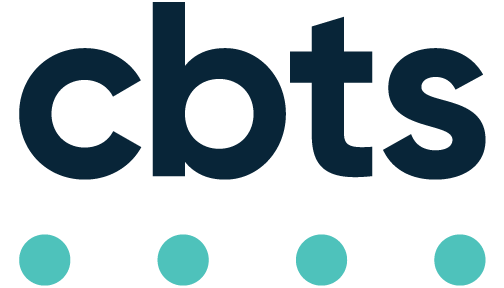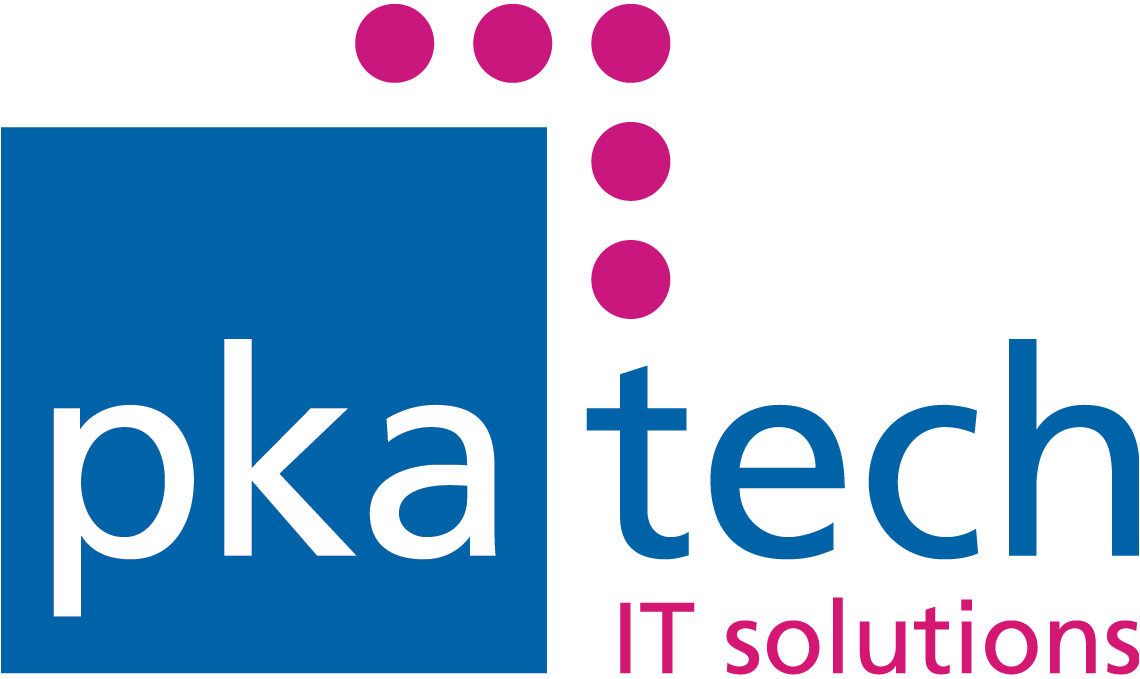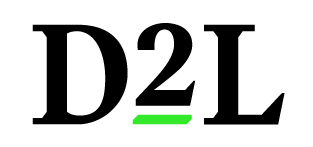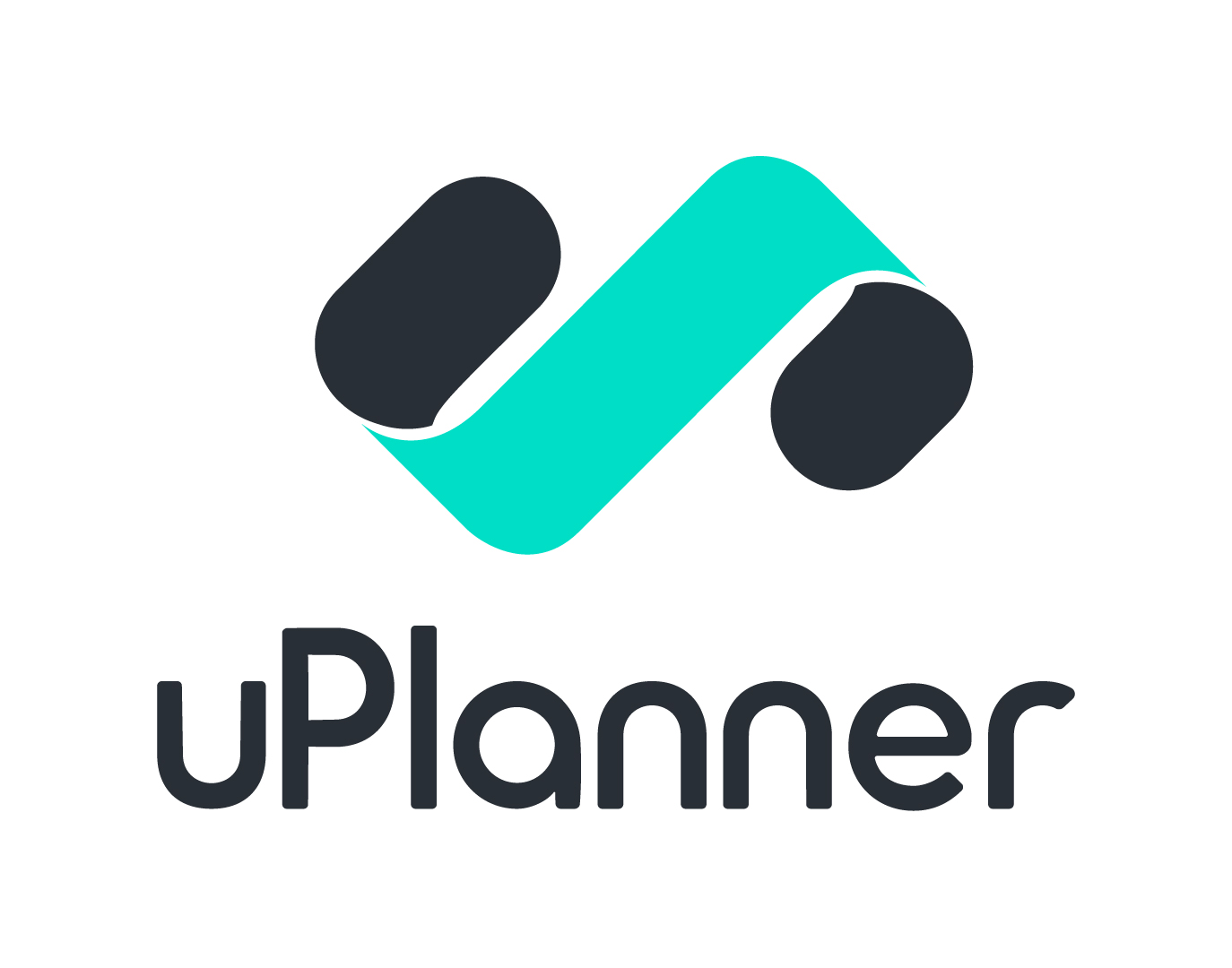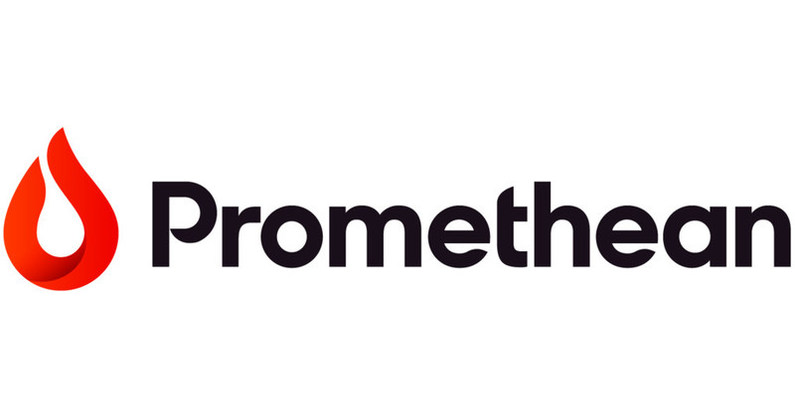 The conference speakers were great. The topics were perfect.
– Acting Director
Overall I really enjoyed my time there as it was a great way to meet other IDs from institutions in the area.
– Instructional Designer
The presentations I attended were good and I got some takeaways to bring back to my campus. Thanks!
– Interim CIO
This year's conference was time really well spent, it was great to see people again in person!  I find tremendous value in face to face, rather than virtual.  The connections made and conversations had made a world of difference.
– Director, State of NJ SLED