EdgeCon Delaware Valley Draws Participants From Across the Region
Newark, NJ, October 18, 2023 – Edge brought its popular EdgeCon series to the Delaware Valley area in conjunction with Neumann University on September 28, 2023. 
With an emphasis on Excelling in a Digital Teaching & Learning Future, attendees had the opportunity to engage with and learn from a growing community of digital learning professionals while discovering innovative solutions to help institutions solve today's biggest digital learning challenges. Conference participants enjoyed a wide range of sessions, including:
Strategies for High-Quality Digital Learning and Course Sharing

Engaging GenZ with Voice and Choice to Promote Digital Literacy

Meet Your Students' Needs – Expanding Your Digital Catalog with a Course Sharing Network

Skip The Hidden Messages: The Importance of Feedback in Online Learning

HyFlex: Creating Opportunities for Success as a Community College

Crafting Campus Connections with Oral History and Adobe Premiere Rush

Using Bite-sized Videos to Layer Nurse Practitioner Content

Preparing to Teach Online: From Learner to Teacher

Making Art with Embedded Poetry from Human and ChatGPT Sources

Maintaining a Competitive Edge While Meeting Student and Workforce Demand

Digital Teaching and Learning Across Campus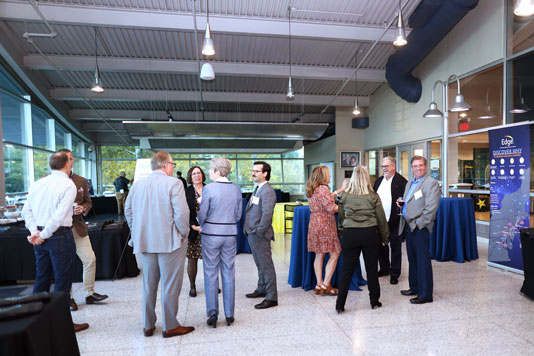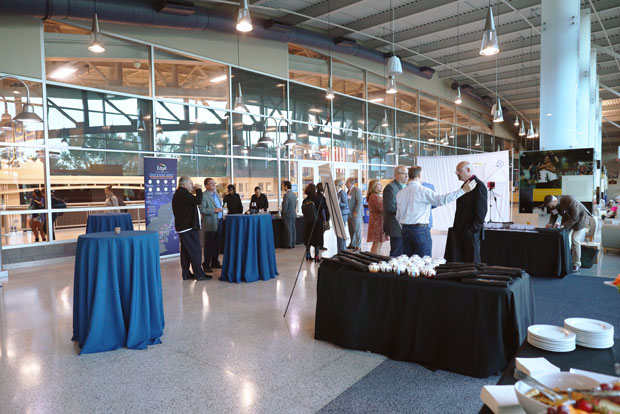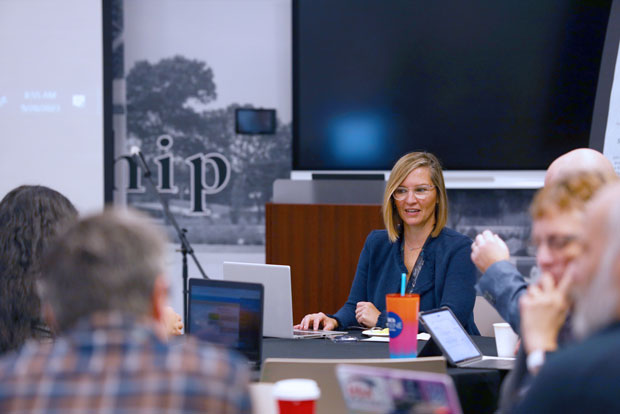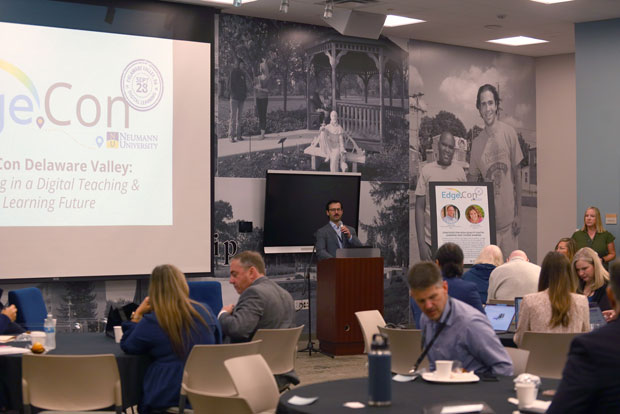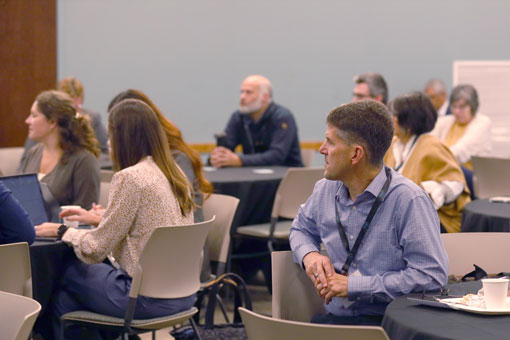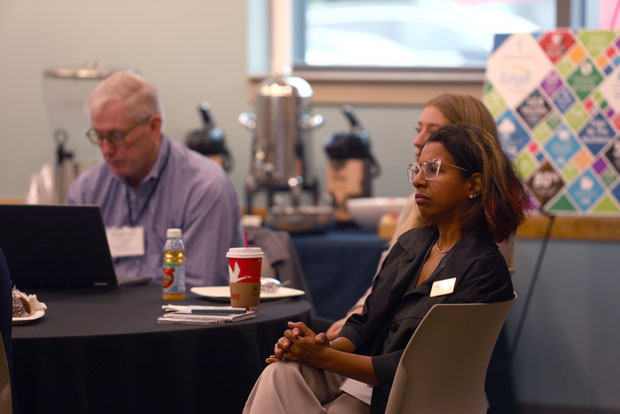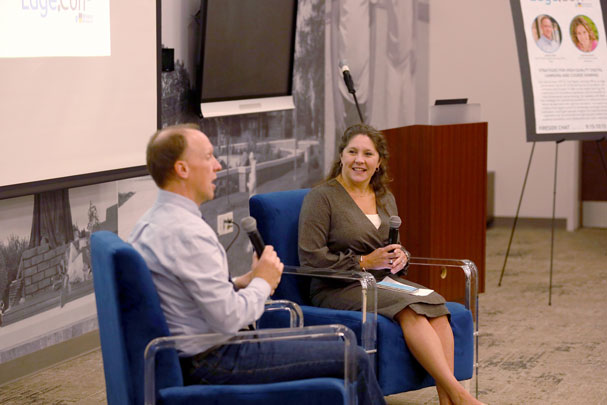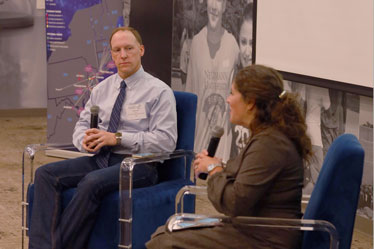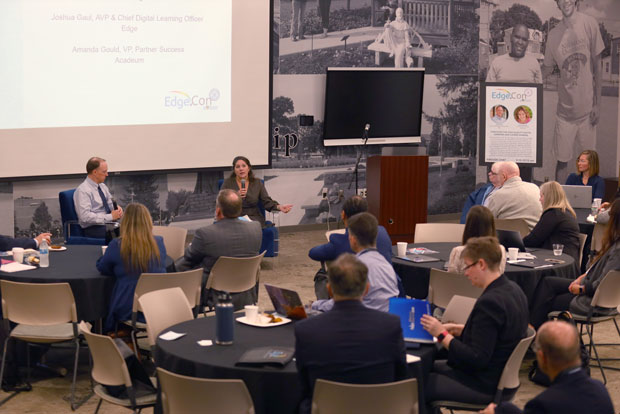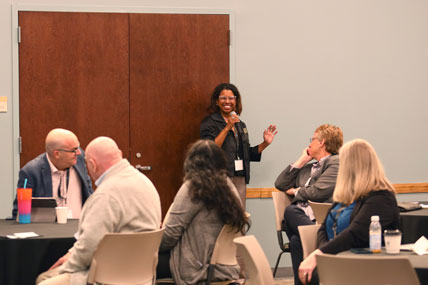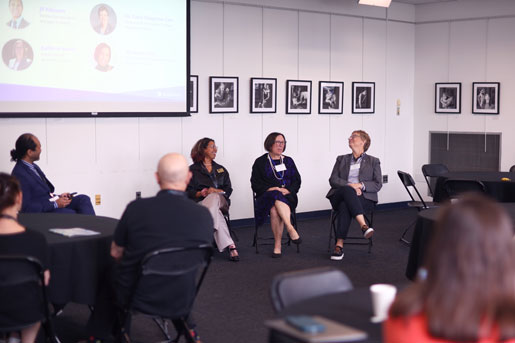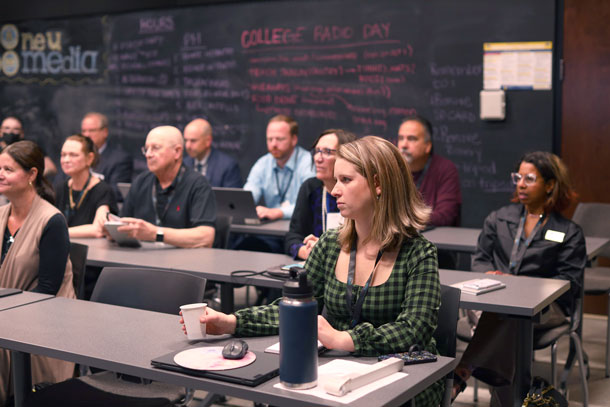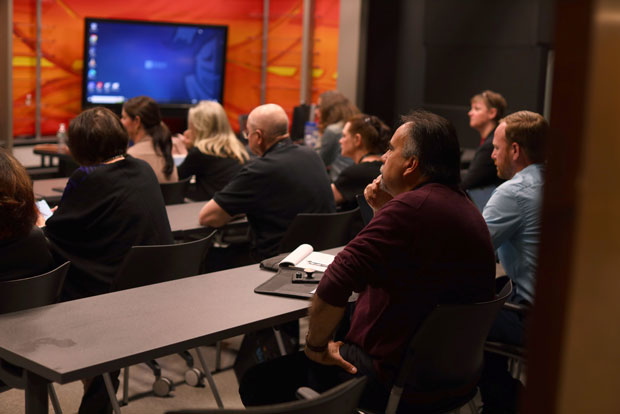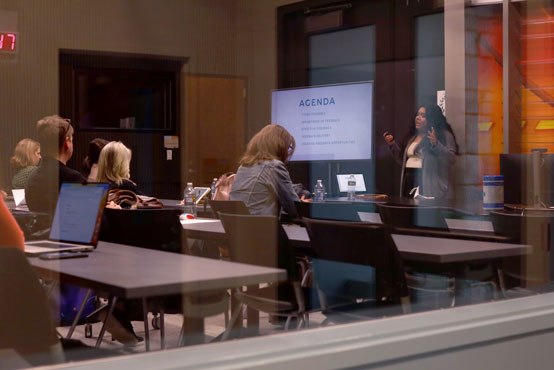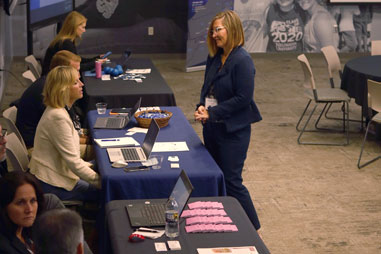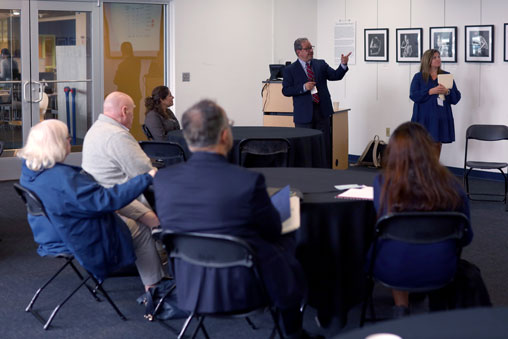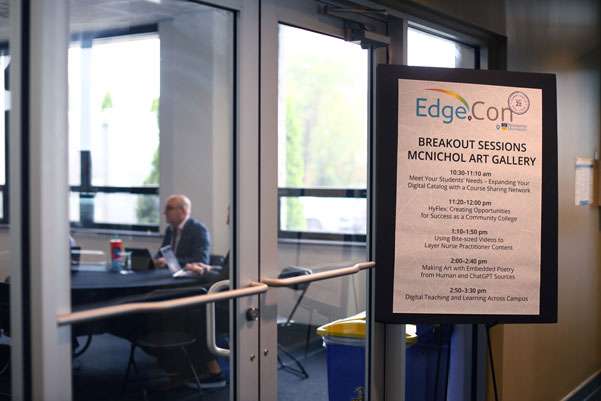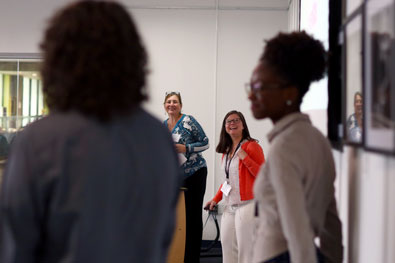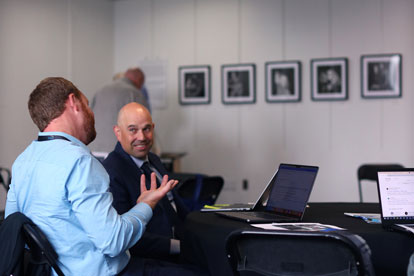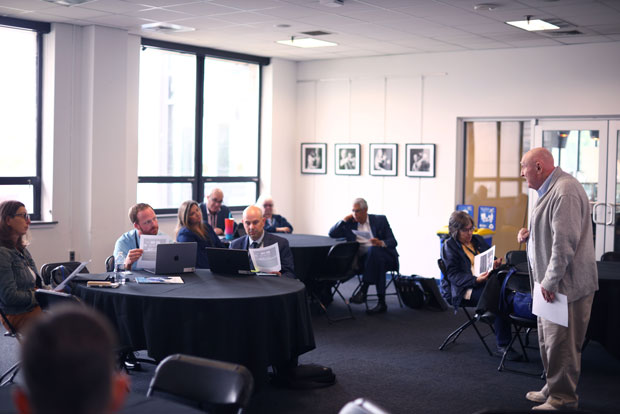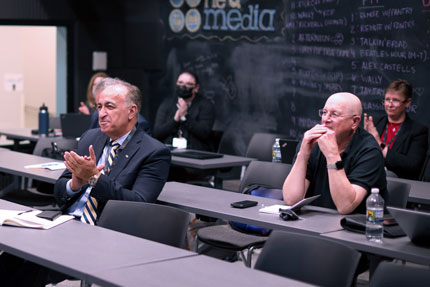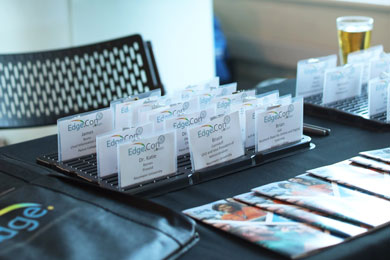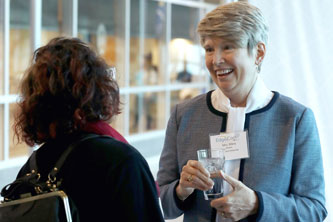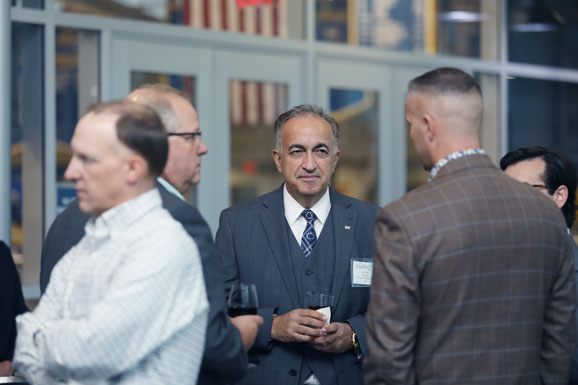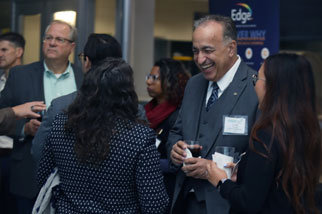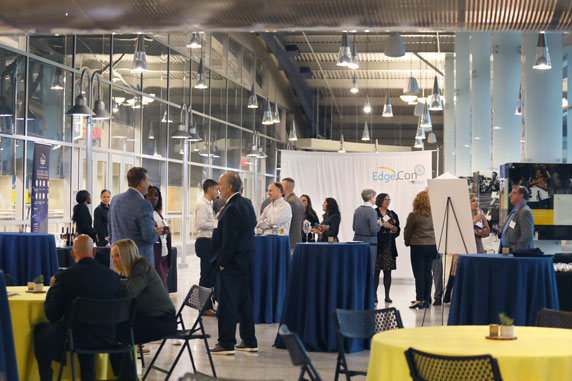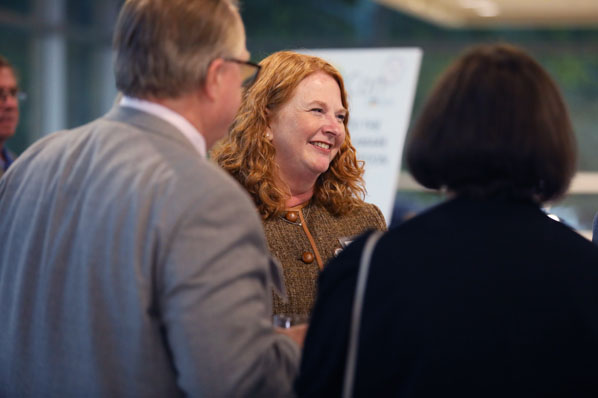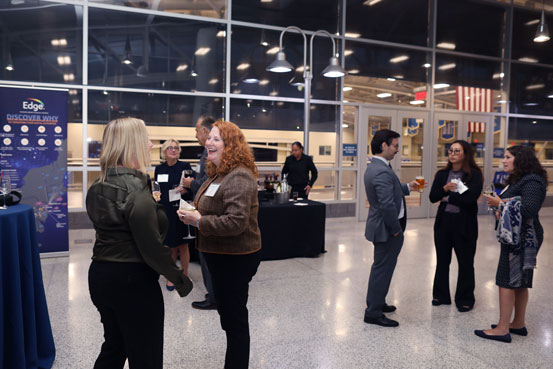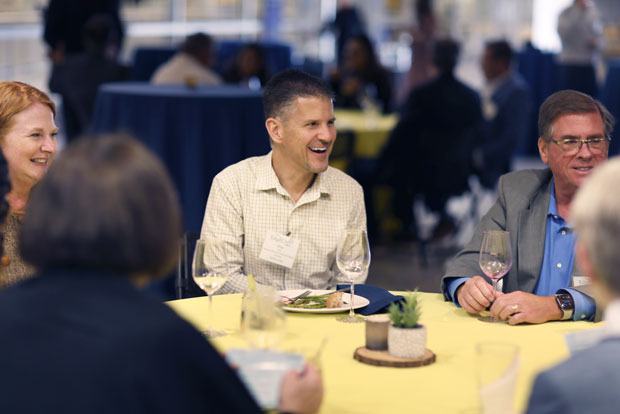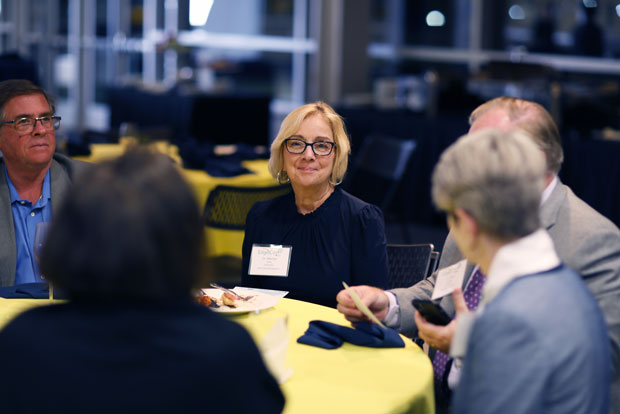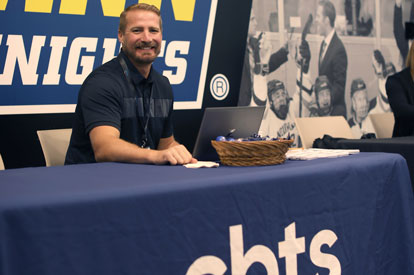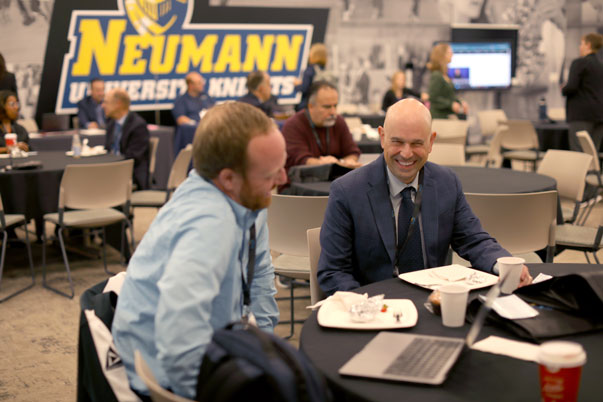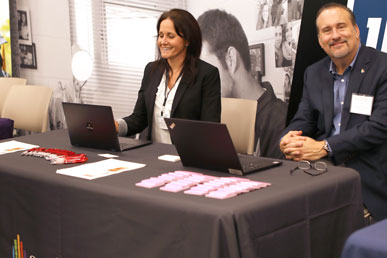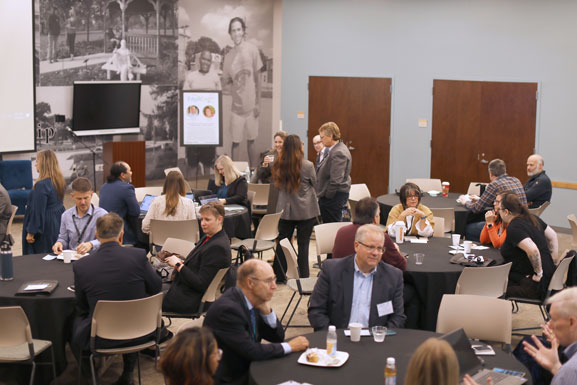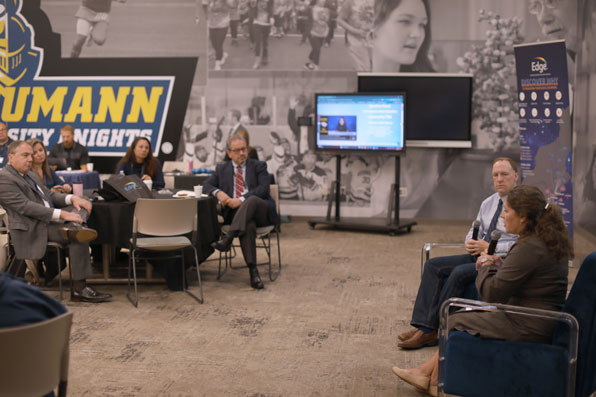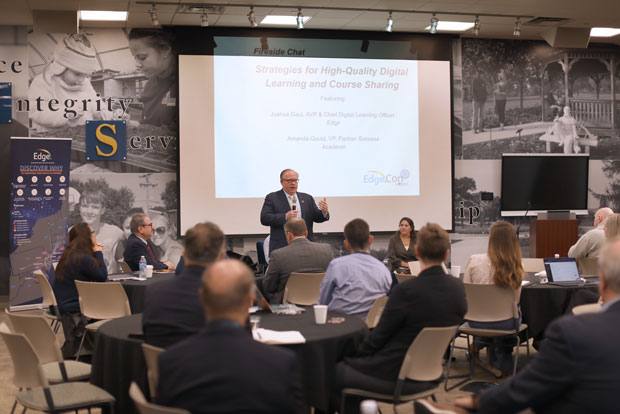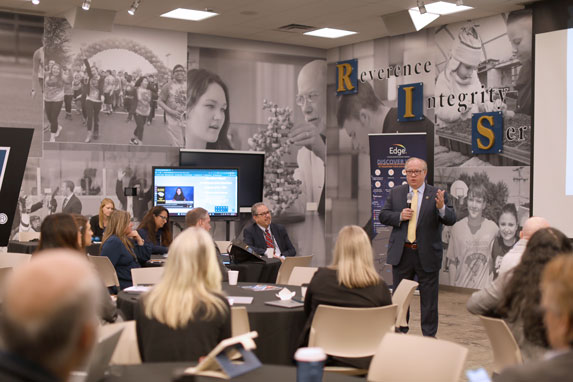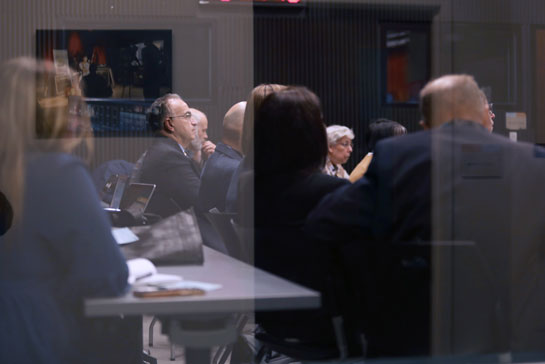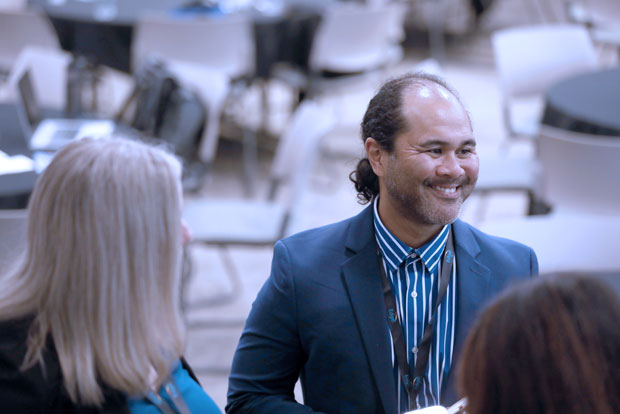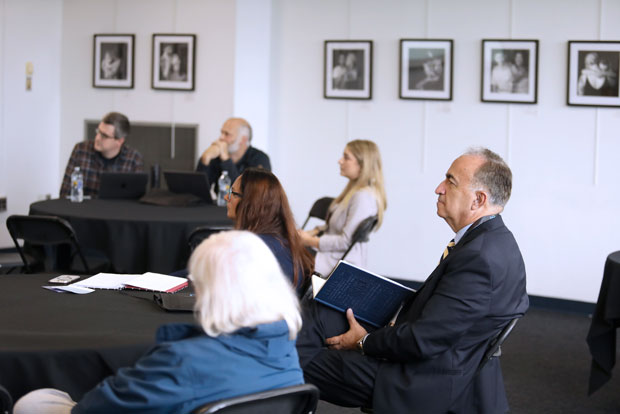 The conference drew attendees from across the region including participants from over 25 institutions representing Albright College, Community College of Baltimore County, Delaware College of Art & Design, Essex County College, Hudson County Community College, Kean University, La Salle University, Lancaster Bible College, Mercer County Community College, Monmouth University, Montgomery County Community College, Moravian University, Neumann University, New Jersey Institute of Technology, Ocean County College, Pennsylvania Institute of Technology, Rowan College at Burlington County, Rowan University, Rutgers University, Seton Hall University, Southeastern University, Stockton University, The College of New Jersey, University of Texas at El Paso, University of the Arts, and Wilkes University.
"Thank you for organizing and holding an EdgeCon Digital Teaching & Learning conference at Neumann University. The event was both enlightening and useful to me in several ways, and I enjoyed meeting many of the other participants. The breakout sessions had many examples of innovative ways to utilize digital teaching and learning to better serve students. I also appreciated the opportunity to present; it helped me to better connect with some of the other attendees.," shared conference attendee Michael Schutz, Math Lab Coordinator, Academic Coaching and Tutoring, Neumann University.
Sponsors Acadeum, Anthology, CBTS and Newline helped make the one-day conference a huge success. 
Edge's much-anticipated EdgeCon Autumn 2023, hosted in partnership with Kean University on November 2, 2023, will provide a wealth of opportunities to network, meet and engage with peers, and experience insightful, inspiring content. The EdgeCon program will invite attendees to reimagine how technology can transform the way institutions achieve their goals and focus on accelerating modernization efforts for cybersecurity, campus networks, cloud strategy, student support applications, and more.
To register for EdgeCon Autumn 2023, begin your registration HERE. 
Agenda
8:00-8:30 am – Check-In & Networking
---
8:30-9:15 am – Breakfast, Networking, and Exhibitor Connections
---
9:15-10:15 am – EdgeCon Delaware Valley Fireside Chat: Strategies for High-Quality Digital Learning and Course Sharing
Join Joshua Gaul, AVP & Chief Digital Learning Officer at Edge and Amanda Gould, VP of Partner Success at Acadeum, for a fireside chat focused on high-quality digital learning, the importance of instructional standards, and the benefits of inter-institutional course sharing. Our speakers will delve into strategies for maintaining excellence in online education, ensuring alignment with rigorous standards, and exploring collaborative opportunities for knowledge exchange among institutions. You'll gain valuable insights into how the student experience can be enhanced through dynamic leadership, academic excellence, and collaboration with peer institutions.
---
10:30-11:10 am – Breakout Session 1
Classroom 107, Mullen Communications Center
Engaging GenZ with Voice and Choice to Promote Digital Literacy
"The World Economic Forum's Future of Jobs Report lists Technology Use as one of their top 10 skills for 2025. Across industries, skills in visual design, digital storytelling, and video production are in high demand, as digital communication dominates the mainstream. 
To begin this session, we will introduce Generation Z and explain their needs and expectations for the classroom environment. Driven by sense of purpose, Gen Z students will connect with learning experiences that emphasize creativity, voice, equity, and utility. 
We will present an assignment that engages students in course content while developing their digital literacy in preparation for the professional demands that lie ahead. While traditional essays and discussion forums can be perceived as irrelevant and impersonal, this authentic assignment capitalizes on students' impetus to create something that has real-world meaning.
All participants will receive a prompt and rubric, which includes a list of potential, student-created digital artifacts and corresponding instructions. We'll discuss considerations for implementation, including ways to customize the assignment to meet the needs of virtually all instructional modalities and course delivery formats. Instructors can also tailor the list of options to leverage available institutional technology and resources without bearing responsibility for learning, teaching, and supporting new software. 
At the heart of this assignment, we'll discuss how giving students "voice and choice" bolsters their resilience and empowers them to persevere through challenges. Research is conclusive that student investment and performance skyrocket when they are given agency in determining how to demonstrate proficiency. 
The session will conclude with a hands-on activity in which participants use the provided rubric to evaluate real student work samples. We will finish with a question-and-answer session and scannable QR code that leads to downloadable materials and a cited list of the research that informed this presentation."
Presenter:
Lisa Bond, Instructional Designer, Seton Hall University
---
McNichol Art Gallery, Bruder Life Center
Meet Your Students' Needs – Expanding Your Digital Catalog with a Course Sharing Network
Innovations like course sharing have been instrumental in meeting student needs and helping institutions achieve their strategic goals. Broadly speaking, course sharing offers institutions a low-risk way to help students access the courses they need when they need them while maintaining the integrity of learning outcomes and the student experience. Acadeum enables students and institutions to succeed with a platform and digital network that expands course catalogs, locates just-in-time solutions, and connects like-minded schools and learners to workforce-aligned and market-competitive courses. In addition, consortial course sharing makes for a more seamless student experience that bolsters retention and completion rates and better prepares learners with the skills required to succeed.
Through the Acadeum network, like-minded colleges and universities can access and share high-quality digital courses to support student success and boost academic innovation.
Attract new student populations by delivering in-demand courses and programs, conveniently and affordably.

Update or expand existing programs with new content from like-minded partners.

Meet student needs with workforce-aligned courses that offer credit as well as hands-on skills.

Ensure students have the courses they need when they need them to maintain velocity to completion.
Hear from a panel of institutional leaders on how they are using course sharing to:
Offer learners opportunities to regain academic standing and overcome barriers to completion

Eliminate transfer hassles and increase scheduling flexibility

Ensure athletic eligibility

Support instructional resourcing needs
Presenters:
JP Palmares, Senior Manager, Partner Success, Acadeum
Dr. Carol Traupman-Carr, Vice Provost, Moravian University
---
11:20 am – 12:00 pm – Breakout Session 2
Classroom 107, Mullen Communications Center
Skip The Hidden Messages: The Importance of Feedback in Online Learning
As in any learning environment, feedback impacts the learning experience. Yet many times instructors and facilitators fall short on providing meaningful feedback to learners. This session will cover key points of providing effective feedback to students in an online setting by taking a closer look at feedback methods and delivery. Feedback shouldn't be a hidden message!
Presenter:
Talia Martinez, Instructional Designer, Kean University
---
McNichol Art Gallery, Bruder Life Center
HyFlex: Creating Opportunities for Success as a Community College
After the pandemic, Ocean County College was looking to create more flexibility for students in how they receive their education. In the summer of 2022, the college launched its first set of fully HyFlex courses allowing students to choose on any given day whether they came to class in person or logged in remotely to the live class session. Data was collected over the course of the 2022-2023 Academic year to see how students performed and to see if there were any advantages students perceived to using the modality. Many positive outcomes were discovered. This session will go over the results from the qualitative and quantitative data as well as walk participants through the process of implementing HyFlex classes in a community college setting.
Presenters:
Catherine Mancuso, Dean of Faculty Development and Learning Innovation, Ocean County College
Dr. Amir Sadrian, Associate Vice President of Academic Affairs, Ocean County College
---
12:00 – 1:00 pm – Lunch, Networking, and Exhibitor Connections
---
1:10 – 1:50 pm – Breakout Session 3
Classroom 107, Mullen Communications Center
Crafting Campus Connections with Oral History and Adobe Premiere Rush
This presentation discusses how student-created videos using Adobe Premiere Rush contribute to campus connectivity—we will provide examples that demonstrate the community-building nature of the assignment in a post-pandemic era and conclude with a reflection on how the final project submissions (which were donated to the university's archives) used a new technology to create inspiring content that benefitted not only students, but also members of the Seton Hall University community in the present moment and, as we will explain, future community members as well. In our ever-changing technological world, collaborative projects between college students, faculty, and staff must ensure individuals from different backgrounds can work together to benefit their university communities. The disconnects that exist between these groups, however, present challenges for determining what productive collaborations and connections might look like. An oral history assignment used at Seton Hall University in Spring 2023 reflects one such innovative approach. First we will discuss how oral history presents a unique and engaging way for students to learn about history from those who have lived it and then we outline the assignment itself. Finally the audience will see how the creation of an oral history using Adobe Premiere Rush was the ideal way for students to practice several skills including various research techniques (reading primary and secondary sources), interpersonal communication (interviewing), and video creation (Adobe Premiere Rush).   
Presenter:
Kate Sierra, Instructional Designer, Seton Hall University
---
McNichol Art Gallery, Bruder Life Center
Using Bite-sized Videos to Layer Nurse Practitioner Content
Educators are constantly exploring innovative strategies to assist students in retaining salient course material. Educational research has established that students need to refocus in under a minute, their attentiveness diminishes throughout a class, and they focus more effectively when student-centered pedagogies are integrated (Blake, 2023). Specifically, Gen Z nursing graduate students have shorter attention spans and, as digital natives (Prensky, 2001), expect to learn through a variety of modalities (Chicca & Shellenbarger, 2018; Singh & Dangmei, 2016). Today's nurse practitioner students are digitally grounded and often prefer information in bite-sized chunks. To address this need, the presenters created a series of health assessment bite-sized videos highlighting important lecture content to reinforce nurse practitioner student course content. The presenters found this tailored approach can effectively engage nurse practitioner students and leverage the most important content for retention beyond the didactic classroom. This presentation will emphasize the process used in developing and refining the videos with a look forward to adapting the format to other subject areas.
Presenters:
Ellen Farr, Assistant Director, Center for Excellence in Teaching and Learning, The College of New Jersey
Mary Ann Dugan, Assistant Professor, Nursing, The College of New Jersey
Samira Adam, Undergraduate Student: Nursing, The College of New Jersey
Elias Ananiadis, Undergraduate Student: Interactive Multimedia, The College of New Jersey
---
2:00 – 2:40 pm – Breakout Session 4
Preparing to Teach Online: From Learner to Teacher
Learning and teaching in the online environment often look very different than in face-to-face classrooms. For novice instructors, understanding how students experience the online classroom can feel like a daunting task. Through the Online Teaching Certificate (OTC) Program offered by Rutgers Teaching and Learning with Technology, instructors take on the role of online students for themselves. As they learn about key principles of online pedagogy and instructional technology usage, they also build empathy for their students, reflecting on their own experiences, challenges, and discoveries as online learners. 
In this workshop, we will provide an overview of the design of the OTC program, highlighting one course in detail. We will demonstrate how the structure and content of this course, Universal Design and Accessibility for Online Teaching, facilitates both skill-building and metacognitive reflection about participants' experiences as online learners. Attendees will focus on key challenges related to online learning contexts as well as strategies supporting online student success.
Presenter:
Natalia Kouraeva, Senior Instructional Designer, Rutgers University
---
McNichol Art Gallery, Bruder Life Center
Making Art with Embedded Poetry from Human and ChatGPT Sources
I published a book in 2011 titled "3D Haiku and Tanka" in Apple Books which explored how writing poetry in 3D space was different from traditional ways of writing on flat 2D surfaces. When 3D printing strategies became available, now it was possible to make 3D real world models of assembled poetic lines which also contained audio buttons that could be pressed for a line of poetry to be read aloud. The appearance of laser cutters made possible the use of multicolored acrylic sheets cut into patterns such as squares, rectangles and pentagons and held together with wood veneer and nuts and bolts. The text of poems are laser cut into the acrylic sheets with QR codes placed nearby for reading by patrons who may be blind or visually impaired. The appearance of ChatGPT now permits the possibility of asking ChatGPT to write poetry in Haiku or Tanka format and include the selected poetry in the mixed media art piece. An example of a Tanka poem made from asking ChatGPT follows.
Silent algorithms,
AI ponders the unknown,
Unraveling truths,
The quest for understanding,
Guided by digital minds.
This raises questions about copyright as ChatGPT utilizes what is available in its captured database to write poetry so any art I make with ChatGPT-inspired poetry pays credit to ChatGPT when its generated poetry is used in an art piece and in that way can be viewed as a virtual collaborator and listed as so in the information describing the art piece.
Presenter:
Mike Kolitsky, Ph.D., Online Adjunct Instructor, The University of Texas at El Paso
---
2:50 – 3:30 pm – Breakout Session 5

Classroom 107, Mullen Communications Center
Maintaining a Competitive Edge While Meeting Student and Workforce Demand
Mirco-credentialing, or stackable certificates, has been cited repeatedly as one of the biggest trends to inspire academic innovation in higher education. Workforce-aligned programs allow institutions to:
Be highly responsive to changing professional trends

Deliver work-based learning experiences that are industry relevant

Keep up with the rapidly changing nature of the world today
Institutions can now leverage the Acadeum network specifically to promote credit recognition, reach new audiences, and provide industry-aligned skills to students making them workforce ready. You'll learn how Southeastern University is approaching industry designed content to help expedite skills based learning that can stack into a degree program for learners to continue to advance along the education-career continuum.
Presenters:
Molly Bryant, Academic Project Manager, Southeastern University
Sarah McDonald, Director, Partner Innovation, Acadeum
---
McNichol Art Gallery, Bruder Life Center
Digital Teaching and Learning Across Campus
This presentation gives an overview of instructional design, digital tools' capabilities, and a campus proposal for designing and implementing a campus-wide integrated digital teaching and learning capability.
Presenter:
Michael Schutz, Math Lab Coordinator, Neumann University
---
3:30 pm – 4:30 – Snacks/Coffee, Networking, and Exhibitor Connections