Change or Be The Change
More clearly than before, we are seeing the recent pandemic as a catalyst and accelerator for Digital Transformation, or Dx as the term is now designated. As many higher education institutions have been on a Dx trajectory, there is now no denying that higher education's future is digital. According to Pearson's 2015 student mobile device survey1, 42% of college students at that time were using two or more Internet of Things (IoT) devices on any given school day. In the past six years the vast and accelerating proliferation of mobile devices on campuses now indicates that over 11.5 billion devices are exchanging data globally. The collective impact of this phenomena on how students live, work, and learn, combined with the consumerism of education and related motivations and drivers for selecting a particular higher education institution to attend, creates a survival condition across the spectrum of education that can only be met by Dx.
Whereas institutional leaders previously looked at information technology as a necessary cost center, the view of technology and its role in Dx is taking on a vastly different context today.  In implementation and practice, Dx is not just about technology and "digitization" or "digitalization", where digitization involves the transform of analog information, and digitalization involves processes. Dx is vastly more complicated and challenging, but done well results in a higher education institution that grows and thrives in today's hyper-connected and automated world. In 2020, Educause defined Dx as "a series of deep and coordinated culture, workforce, and technology shifts that enable new educational and operating models and transform an institution's operations, strategic directions, and value proposition."2
Success with Dx efforts can have multiple barriers including lack of trained leadership in organizational change management, missing internal skill sets in business process modeling and notational form, gaps in systems thinking at an enterprise level, legacy models involving data silos, or undefined or conflicting business rules.3 The foundation for success in Dx does not involve technology as the ultimate determinant as technology, in and of itself, does not have inherent value; how institutions apply technology as an enabler of mission success is the determinant. Moreover, in today's cloud environments, Dx transcends internal campus requirements to include network and cyber infrastructure that fully supports current and future needs and changes in information technology architectures. The importance of a defined ecology for the student lifecycle, mapped to and informed by networks and technology, has never been more pronounced.
"62% of users now research prospective universities on their smartphones and social media marketing is the biggest driver in higher education marketing teams" Elliot King, Mint Twist
Higher education institutions cannot afford to ignore Dx as a critical success factor. Dx is primarily concerned with the student experience, thus the importance of a defined student lifecycle ecosystem. In a recent report4, Educause noted that student success and experience was a primary motivating factor behind a majority of Dx initiatives. Six out of seven of the key drivers for Dx involved student success, and 87% of institutional respondents in their survey identified "improving the student experience" as the main driver behind institutional planning and investment in Dx. The roadmap to success with Dx is complex and difficult to achieve. There is no "silver bullet" application or technology architectural configuration that will facilitate the required transformational change. Elements of digitization and digitalization, as previously defined, are a good starting point, but without a comprehensive road map that includes strategy and planning for comprehensive and phased tectonic shifts in institutional culture, workflows, and infrastructure that enable new methods of operation and teaching and learning, most institutions will not achieve sustainable growth and financial health.
Key takeaways from the Dx discussion include: 1) an increasing number of higher education institutions are concerned with and engaging in Dx initiatives; 2) Dx can bring to the institution a renewed sense of optimisim about the future; 3) awareness and keen understanding of Dx most often does not reside in campus IT organizations or any collection of campus operations; 4) the impact of a successful Dx initiative has been demonstrated across a variety of college and university sectors; and 5) the two greatest barriers to success are generally reluctance to cultural change and expense. The case may well be that institutions have two choices with respect to Dx, they can change or they can be the change. Leading pre-COVID prognosticators in higher education point out that "institutions survive the challenges they face and flourish because they had a compelling vision, the ability to recognize and adapt to changing circumstances, and strong, effective leadership. With these elements, any institution can do wonderful things. Without it, institutions in any industry are doomed. Colleges and universities have demonstrated that they have a history of adapting to changing circumstances amid difficult times."5 Now may very well be those times.
Edge, the region's non-profit technology partner, works with institutions of higher education on many successful Dx initiatives.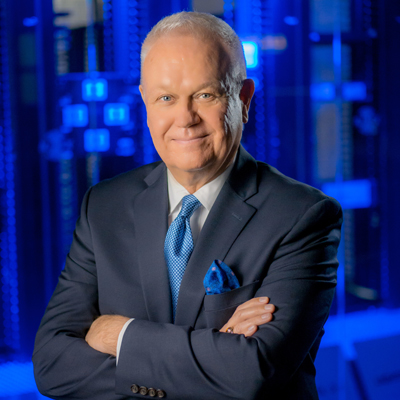 About The Author
Samuel Conn, Ph.D., President and Chief Executive Officer, Edge
Samuel Conn brings a long history of fostering the advancement of technology in public and private higher education institutions across several focus areas including information technology management, administrative and educational technologies, e-Learning networks, and enterprise transformation. Serving as President and CEO for Edge, he guides the executive management team with over 35 years of combined military, professional, private sector and academic experience in the field of technology and information systems. He holds an undergraduate (BSci) degree in Business Administration, a graduate (MSci) degree in Computer Information Systems, and a doctorate (Ph.D.) in Information Systems. By harnessing the potential of digital networks to advance teaching, learning and research, he maintains Edge's commitment to push the boundaries of innovation and achievement as a national model of excellence for purpose-built research and education networks.
1 Pearson Student Mobile Device Survey 2015. Conducted as a US national survey by Harris Poll.
2 D. Christopher Brooks and Mark McCormack. Driving Digital Transformation in Higher Education. ECAR research report. Louisville, CO: ECAR, June 2020.
3 Malcolm Brown, Betsy Reinitz and Karen Wetzel, "Digital Transformation Signals: Is Your Institution on the Journey?" EDUCAUSE Review, Enterprise Connections Blog, October 9, 2019.
4 Ibid.
5 Phil Muehlenbeck and Karina Pineda, "Are More Colleges Closing? (Spoiler Alert: Probably Not). Higher Education Today, Blog by American Council on Education, September, 2019.