With a mission of helping guide an expanding university research enterprise, Michael E. Zwick, Ph.D, joined Rutgers University in 2021 to lead the Office for Research and support the research scholarship and creative endeavors of all faculty. Bringing extensive experience to his role as senior vice president for research, Zwick previously served as the associate vice president for research at the Robert W. Woodruff Health Sciences Center at Emory University and the associate dean of research and professor of human genetics and pediatrics in the Emory University School of Medicine.
In addition, Zwick has 25 years of military service as a former surface warfare qualified officer in the United States Navy (Commander, O-5) and served in multiple commands, including Commander Pacific Fleet, Commander US Forces Japan, Naval Medical Research Center, and the Office of Naval Research. He was called to active duty to support the Iraq and Afghanistan war efforts from November 2002 through November 2004.
Creating Paths for Collaboration
Throughout his career, Zwick has adopted a team-based approach and values the importance of building strong partnerships and collaboration opportunities to drive research and innovation forward. "As a faculty-focused organization, Rutgers Office for Research is committed to paving the way for our researchers to receive the tools and support they need," says Zwick. "An analogy we use is that we build the roads for Rutgers' faculty to drive their vehicles; to initiate and pursue innovation that transforms lives and advances our society. We often convene with research leaders, deans, chairs, and departments to help organize and align efforts and ensure everyone is aware of the opportunities to advance our faculty's research endeavors. We work on processes and provide resources for research to be conducted safely and efficiently, and we partner with faculty one-on-one for them to be successful."
Supporting a quickly growing research enterprise and maintaining a competitive edge can lead to unique hurdles, as well as exciting opportunities. "Rutgers is a large institution, and our scale can present advantages and challenges," shares Zwick. "We have enormous talent among our faculty and look for ways to free up that talent and help our teams build and develop connections to spur high-impact research. Due to Rutgers structure, it requires significant coordination with multiple parties, including understanding each other's unique interests across the organization. This coordination ensures buy-in from all key stakeholders."
Like many institutions in the higher education community, acquiring research funding continues to be a top priority and an ongoing challenge. "Research is not a money-making operation," explains Zwick. "While research brings funds into an institution, it also costs money to support research initiatives. We continue to balance our growth and research efforts and refine our budgets to support the scale and size of our research enterprise."
With training as an experimental population geneticist, Zwick says he enjoys conducting experiments and often thinks of the administrative functions of his role as ways to explore theories and gather data. "There are many areas at Rutgers where research has great depth and is proliferating. For example, we're seeing dramatic growth in the life sciences space, reflected in the increased funding from the National Institutes of Health (NIH) and the broader economic ecosystem of life sciences in New Jersey. Our faculty are doing astounding work in arts and humanities, social and behavioral sciences, natural sciences, and engineering. We're seeing a virtuous cycle where we're conducting research, and many companies are interested in these remarkable growth areas."
"One of the key opportunities and strengths I see lies in the state's diverse population," continues Zwick. "New Jersey is a small state, but very densely populated by people with different ancestries and ethnicities. This offers tremendous opportunities for all types of research and scholarship, and embracing this diversity is essential to Rutgers' future success in broad areas of research and creative endeavors."
Seeking Solutions Together
The Office for Research is university-wide and supports faculty from Rutgers University Camden, Newark, Rutgers Biomedical Health Sciences, and Rutgers New Brunswick. "To help advance research initiatives from across the organization, I regularly meet with vice presidents of research at our research strategy roundtable, where we identify problems and seek solutions," explains Zwick. "I'm also forming a series of faculty advisory committees to give faculty opportunities to meet twice a year with the senior vice president for research. These committees will be split into four categories: arts and humanities; social, behavioral, and economic sciences; biological, biomedical, and life sciences; and engineering and natural sciences. Each of these groups has collective interests. We're hoping this will facilitate more direct interaction between faculty and our Office and allow us to gather more direct feedback on how we can better support faculty, student success, and the broader academic mission of Rutgers."
Along with thirteen other institutions, Rutgers is part of the Big Ten Academic Alliance (BTAA). This consortium enables effective collaboration among research universities and creates a platform for sharing expertise and campus resources and joining forces on innovative programs. "I meet with the BTAA regularly to share ideas, discuss common challenges, and form working groups," explains Zwick. "During our meetings, we're able to share Rutgers' story, but also learn what other institutions are doing and create a supportive and symbiotic network of universities."
"We continue to have fantastic support from the state, and part of our focus has been on building external partnerships, including the New Jersey Economic Development Authority (NJEDA) and the Commission on Science Innovation Technology (CSIT). We've also formed relationships with Choose New Jersey, TechUnited:NJ, and New Jersey Health Foundation (NJHF). From day one, I've encouraged my team to build and maintain these relationships because they are essential to helping our faculty succeed and bring their ideas to fruition."
– Michael E. Zwick
Senior Vice President for Research
Rutgers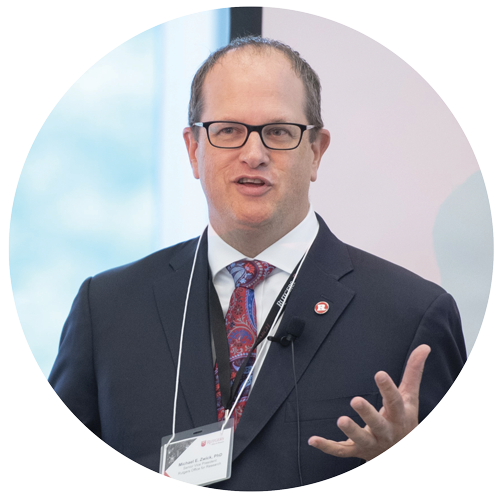 Translating Ideas into Real-World Solutions
An essential part of the Office of Research's mission is creating meaningful partnerships and business relationships between Rutgers innovators and the private sector. Staffed by scientists and IP experts with industry experience, the Innovation Ventures team at Rutgers helps enable entrepreneurship and transform research at the University into products and services. By helping guide an idea from proof-of-concept through IP protection—including patents, copyrights, trademarks, licensing, and commercialization—Rutgers innovators can bring their ideas to life.
Fostering collaboration with local businesses and industry leaders continues to be a critical initiative for Rutgers as they further expand their research and innovation footprint. "We continue to have fantastic support from the state, and part of our focus has been on building external partnerships, including the New Jersey Economic Development Authority (NJEDA) and the Commission on Science Innovation Technology (CSIT)," says Zwick. "We've also formed relationships with Choose New Jersey, TechUnited:NJ, and New Jersey Health Foundation (NJHF). From day one, I've encouraged my team to build and maintain these relationships because they are essential to helping our faculty succeed and bring their ideas to fruition."
To help innovators translate their ideas into real-world solutions, the Rutgers Core Services team builds and coordinates university-wide specialized laboratories which offer state-of-the-art equipment, instrumentation, and shared services. "Rutgers has more than forty core services, and when I joined the University, I wanted to make these core services available to other schools and the entire community," shares Zwick. "We had a fantastic partner with Judith Sheft, the executive director of the New Jersey Commission on Science, Innovation, and Technology (CSIT), who organizes grant funding for companies to come to use core facilities at Rutgers or any public university. We've been able to help companies gather critical data using the platforms that Rutgers experts run. This gives companies access to expensive resources and advanced infrastructures that they may not be able to afford, leading to discoveries that can positively impact the broader innovation ecosystem."
Turning Data into Insight
With a strong focus on developing policies and procedures to support these guidelines, Rutgers has invested in data analytics and business intelligence to become a data-informed organization. "We want to continually assess if our policies are working and if our procedures are optimized for the goals we want to achieve. "Rutgers, The State University of New Jersey, also looks to support all our key stakeholders, including industry leaders and community members."
Innovation is central to Zwick's vision for the Office for Research and empowering faculty and researchers to be pioneers in their field. "An interesting challenge in my role as an administrator is exploring how our Office can be innovative," says Zwick. "There are opportunities to reduce our costs and streamline our focus on areas that need more support, to gain a deeper understanding of where these needs exist through data analytics. We have a lot of data, and we're now building a team using that information to gather important insight. Our dashboards report the total number and value of sponsored awards, and our total research expenditures and summarize our entire technology transfer, portfolio, percent license, and revenue. I share this information with our senior leaders, and we use this as a tool to help coordinate across the institution."
"I am also interested in finding uses for artificial intelligence (AI)," continues Zwick. "For example, our grants and contracts team is using an AI-powered contract review platform that helps streamline the contract review process. By using this technology, we can reduce the time it takes to review contracts, which has led to dramatic increases in productivity among the grants and contracts group. Our aspirations in the Office for Research are to not only support Rutgers, but we aim to be the top tier Office for Research in the Association of American Universities."
Among their recent achievements, Rutgers' Institutional Review Board (IRB) was accredited by the Association for the Accreditation of Human Research Protection Programs, Inc. (AAHRPP). By obtaining the AAHRPP seal, Rutgers is regarded to have efficient operations, produce high-quality data, and provide comprehensive protections. "This is the first time Rutgers' IRB has received this gold standard of IRB accreditation," shares Zwick. "We conduct a great deal of human subject research across the institution, from social and behavioral sciences to medical sciences, and having IRB accreditation is essential."
Building a Strong Research Ecosystem
Sharing Rutgers' views of the ongoing need for research connectivity and collaboration, Edge has partnered with the University for over two decades. "Edge is pleased to partner with Rutgers University to advance the research and education mission of their institution through Edge's advanced high performance network capability and many collaborations, including the National Science Foundation Campus Cyberinfrastructure Regional Connectivity proposal," says Forough Ghahramani, Ed.D. Assistant Vice President for Research, Innovation, and Sponsored Programs at Edge. In 2022, Rutgers upgraded their network connectivity by migrating one of their enterprise Internet connections to the Edge optical fiber network, EdgeNet, at 100 Gbps to optimize network performance.
Zwick says building avenues for collaboration and creating interdisciplinary teams to address societal problems will be fundamental in driving science and innovation into the future. "To solve global issues from climate change to human health will require a diverse group of people who can work effectively together. This requires a strong ecosystem and New Jersey has an exceptional alignment between community members, the state government, private corporations, nonprofit organizations, and higher education institutions. I'm excited for the Office for Research to play a role in this broader effort and to help elevate research to transformative new levels."