Consortium Buying & eProcurement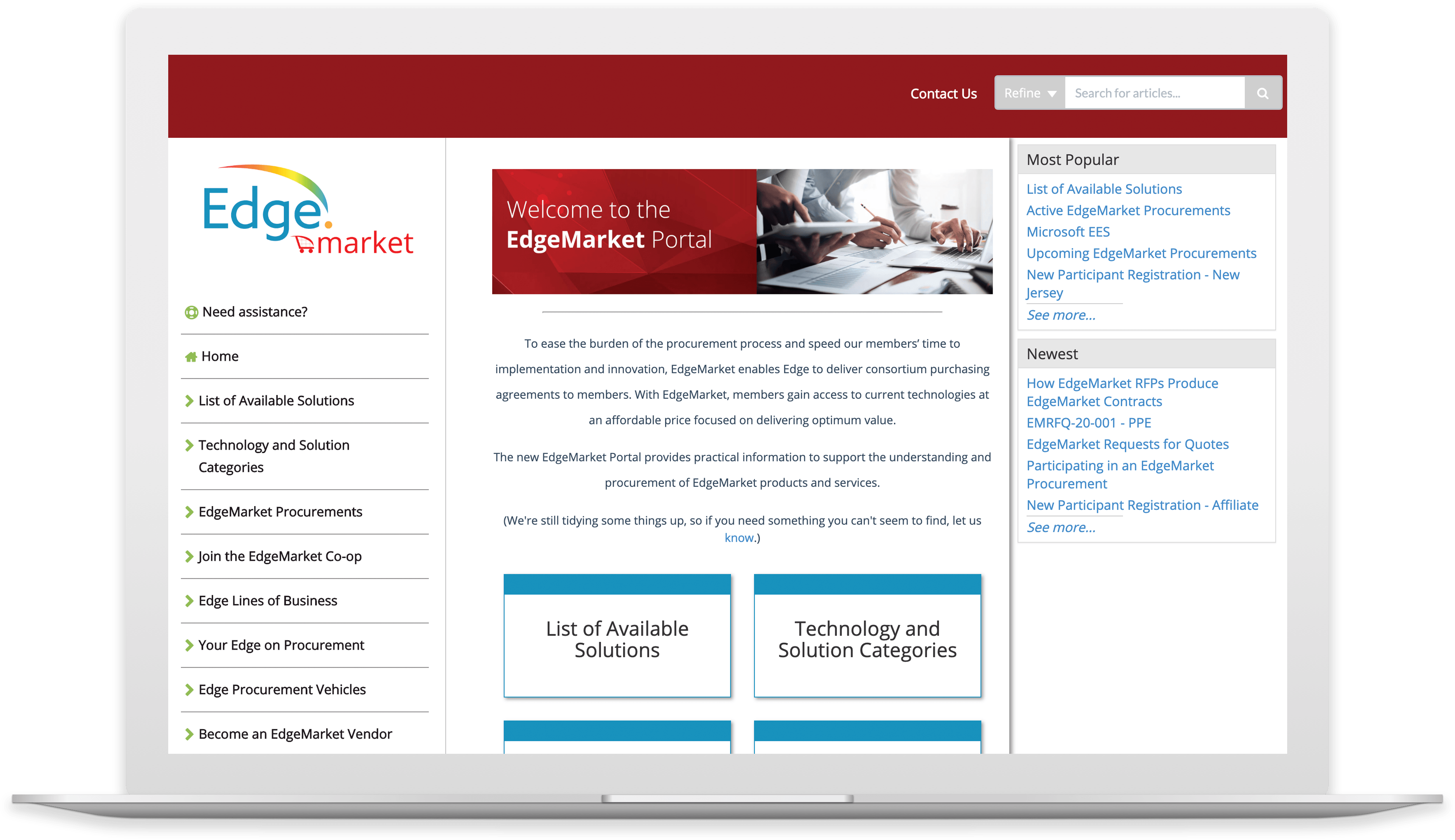 EdgeMarket Portal - Our Cooperative Pricing System
To view all open and previously awarded RFPs, please visit the EdgeMarket Portal.
Visit the EdgeMarket Portal
Consortium Purchasing Agreements
To ease the burden of the procurement process and speed our members' time to implementation and innovation, EdgeMarket enables Edge to deliver consortium purchasing agreements to members. With EdgeMarket, members gain access to current technologies at an affordable price focused on delivering optimum value.
EdgeMarket is at the core of every technology service, product and solution Edge provides to its members in public and private education institutions, state and local government, healthcare providers, and nonprofits. With time and resources stretched, Edge members find value in EdgeMarket because it minimizes the amount of effort required to research, analyze, and procure essential tools through two purchase methods:
Lead Agency Status – Education Services Corporation
Cooperative Pricing System
EdgeMarket is your solutions and services "easy button," enabling you to quickly and affordably procure directly with Edge and our authorized partners. We invite you to explore our entire Technology Solutions Portfolio to gain an understanding of available product and service offerings, familiarize yourself with our strategic partnerships, and review areas of need for your organization or institution.

Lead Agency Status – Education Services Corporation
As a state authorized Education Services Corporation, Edge holds Lead Agency status. Under this designation, Edge has issued RFPs and negotiated pricing contracts for strategic partnerships on behalf of our membership, enabling members to obtain products that are in high demand at the most cost-competitive pricing available.
10Zig
Active Cyber
Adobe Connect
AlienVault
Amazon Web Services
Atlassian
AWS
BeyondTrust
Blackboard Ally
Cisco Umbrella
Classlink
Comodo
Comtrade
CrowdStrike
Cyberhat
Cylance
DocuSign
Dyn DNS
Effectual
F5
ForeScout
Fortinet
Fortium Partners
Google Apps for Education
Google for Education
Gridless Power
HYCU
Infoblox
KnowBe4
Mark43
Marketing and Enrollment Management Services (Blackboard)
Mission Critical Institute for Cybersecurity
Nutanix
Okta
OnSolv (formerly known as SendWordNow)
Optima Global Solutions
Palo Alto
Quality Matters
Ready Education
Salesforce
Secureworks
Splunk
Staff Augmentation
Student Services by Blackboard
Tata Consultancy Wervices (TCS)
Technics
Verkada
Virtual/Fractional CIO Services
Virtual/Fractional CISO Services
VMware via Carahsoft
Zoom
Zscaler

Cooperative Pricing System
Edge holds designation as a Cooperative Pricing System (DCA #269EMCP) as approved by the New Jersey Department of Community Affairs (DCA) in 2018. This designation enables NJEdge to issue RFPs on behalf of the entire public sector community in New Jersey and beyond, in addition to Edge's current membership. Moving forward, all RFPs will be issued via our Cooperative Pricing System status and made accessible to existing members and the wider community.
Apogee
Anthology
ASR Analytics
Bayside Operations
BlackBeltHelp
Blackboard
CampusWorks
CBTS
Class Technologies
D2L
EAB ANALYTICS
Electric Symphony Media
Examity
GRM Information Management
Helio Campus
Ivy.ai
Jenzabar
Kaltura
Mainstay
Marketsmith
Microsoft via SHI
Ocelot
Onsolve
Precision Campus
Proctorio
SHI
Student Services by Blackboard
Team Dynamix
XTEL
Online Learning & Instructional Technology Solutions & Partnerships
Learning Management System
Learning Management System (LMS): As the industry leading LMS, D2L serves as the basis for the EdgeLearn ecosystem. With its ease of use for students and instructors, innovative and responsive design, compatibility with a wide variety of devices, and a variety of integrations for third party apps, D2L serves as the ideal hub for an engaging edtech platform.

Video Communication & Collaboration
Rich video collaboration via Zoom allows institutions to expand their impact across geographies to reach more students, and offer new learning opportunities by including guest lecturers from anywhere. Video collaborations also make integrated experiences with other educators and administrators easier and more efficient.

Google for Education
As an authorized Google for Education Partner, Edge has the ability to deliver the software and services you need to get the most out of your G Suite for Education implementation. This partnership includes the ability to deliver advanced software features, Chromebook devices, and related services. Through Edge, you can access:
Chromebooks from device vendors such as Dell, HP, Samsung, and others.
Chrome licensing including the upgraded G Suite Enterprise for Education, which delivers enhanced functionality for security, mobile device management, live streaming and recording, and more.

Digital Asset Management
An effective Digital Asset Management (DAM) solution acts as a media repository and video-on-demand solution for institutions of learning. With a variety of options to engage and interact with video assets both licensed and instructor-created, an effective DAM provides a deeper learning experience through the use of video. Edge's illumira solution offers end-to-end digital media management to enable instructors and library staff to manage rich video content.

Digital Accessibility
Edge's partnership with Blackboard Ally helps institutions build a more inclusive learning environment and improve the student experience by helping them take clear control of course content with usability, accessibility and quality in mind. The tool integrates with any LMS and automatically checks for accessibility issues, generating alternative accessible formats for instructors using advanced Machine Learning Algorithms. Ally also provides institution-wide reporting on course content accessibility and drives further improvements at the institution.

Single Sign-On & One Click File Access
A modern, user-friendly single-sign-on (SSO) solution can enable your organization to replace outdated web portals, or deliver streamlined access to your users for the first time. Through our partnership with ClassLink, Edge connects our members to solutions for one click sign-on for over 6,000 apps, one click file access for cloud services like G Suite, O365, and Box, and powerful analytics to help you understand the apps your users actually use and for resource and budget optimization.

Easier, smarter, faster services procurement. EdgeMarket delivers.